Bwah bwah bwah
Omg the frequency at which I update my blog is really pathetic especially when I have so much to babble about everyday. But can't be helped, fell sick during the free time I had last week!!! 3 days of Open House = no classes but I was immobile in bed with fever. And I delayed seeing a doctor so long that when I finally did, he told me that all the coughing has given me a little bit of lung infection. Argh don't want talk about it, the whole experience is just gross and sickening. But I'm nearly all recovered now so thank you everyone who has expressed concern 🙂 🙂 🙂
Very boring highlights of my sick days:

Mom bought me my favourite snack but I haven't eaten it then I fell sick already


She bought me hair dye for cny too even tho I don't plan on dying my hair again well idk

Someone left a gift at my door 'cos I was too sick to go get it looool

New bottle of nail polish I just bought from the sale in school hohoho
Came to school just for IP consultation yesterday and it was just Darilene and I so we went to nom nom and she helped me do my nails 😀 omg I love the color so much, so glad that I bought it!!!!! Photo does my nails no justice.

It's more than what I'd usually spend on nail polish ($8) but it's a reputable brand and anw I love the color plus the silver nail polish I have dried up already (though this is more of glitter than a silver color) and the final pushing factor was its name!!! SILVER LINING 😀 and I have always loved the saying "every cloud has a silver lining".
Ok I know my photos really suck but whatever.
I WANT A NAIL POLISH LIKE THAT:

It's like metallic and freaking ass pretty! But no such nail polish, it's actually a foil thing that you have to paste on and it's like so troublesome. The closest that exists is Millenium by China Glaze but it has been discontinued for I don't know why. Ugh!!! I just want silver metallic nails asdfghjkly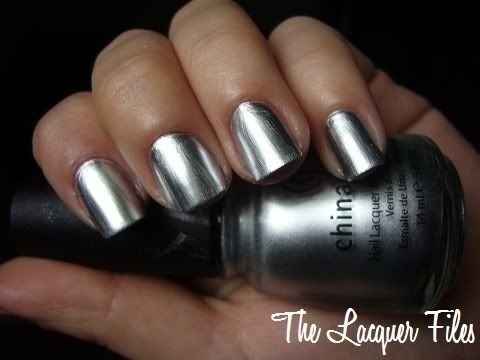 Other random stuff:
Rmb the hearts romper that I blogged about last time? I made an order but it was out of stock!! 🙁

I can't wait for CNY omg I love CNY even more than Christmas and my birthday

Gims' class was really hilarious this week omg

2 more weeks of school to survive!!!!!
Also I am soooo thankful today because I had a presentation scheduled at 8.30am but that was the time I woke up (thanks to my addiction to reading fics…) and I took a cab down to school immediately after washing up. Felt so bad because I'm risking my groupmates' grades too!! Anw I was like hoping we could get a later slot by exchanging or something. But then when I reached my group was still waiting for our turn because the teacher came late! Muahahahahah I am just so happy and thankful!!!
For the benefit of those who miss seeing my face on here (i.e. nobody) because I have been feeling too tired and listless to camwhore… here's to me surviving another week of school! 😀


The girls pushed all their plates and boxes to me and wanted to tweet about what a pig I'm being by eating so many portions. Lololol and we were laughing so hard from the old photos of us we found in their phones that were never publicised 😉