Nights to remember
Curious about my previous locked poast? Too bad. I only gave the password to people I like enough~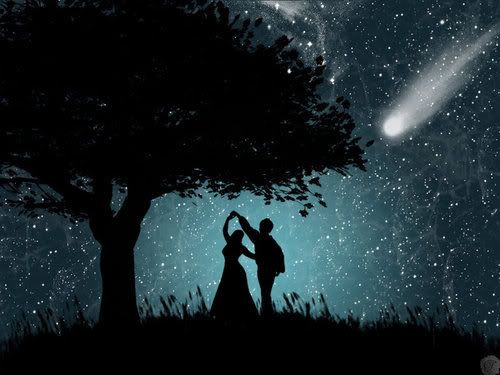 You can dance anywhere, even if only in your heart.
Nobody cares if you can't dance well.  Just get up and dance.
– Dave Barry
I ish dedicated blogger!
Been drafting poasts and scheduling updates so that you all have something to read everyday. Touched right? ^-^
Been lolling about at home the past few days, trying to recuperate from all the trauma that school has dealt me with. Today's my last day of nua-ing! Got stuff on for the next few days wheeee.
Kkk very long poast with pictures about… you'll see.
This is DYLAN!
The P5 boy I've been tutoring since June for English and Maths.
Very cute right! Reminds me of my brother 😀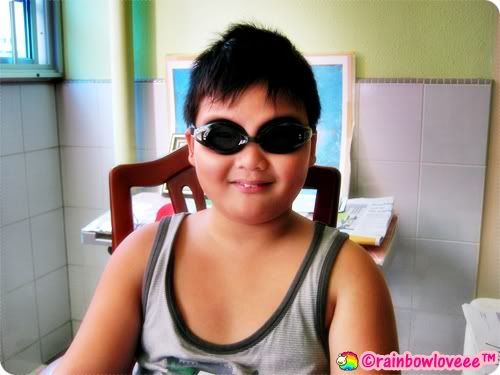 During breaktime also diedie insist on showing me his new goggles!
And oh, he's not camera shy AT ALL.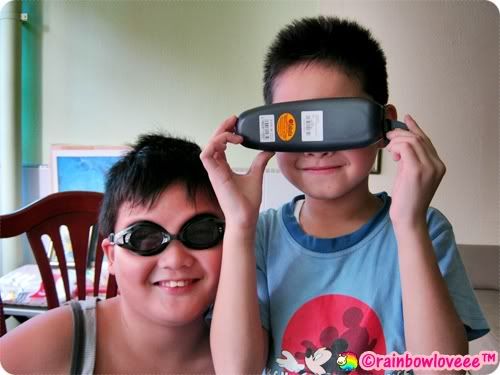 He and his friend, Justin
I've spent too much money recently.
Thank goodness for tuition. But it's also a lil scary because nowadays when I spend money, I don't even bother counting how much I've spent in total anymore, unlike last time :/
Walao I've wasted too much money.
The EZ-link card, for one. And cab fare – omg I've spent a redundant bomb on cab fare but it's like a habit I can't kick. It's either I am running late or I am too lazy for MRT. Sad to say, more often than not, it is the latter.
Anw, had a very unique experience not long ago with cabs.
Was waiting for one by the kerb, as illustrated.
A smartly-dressed guy carrying a luggage of sorts was already there waiting, on the opposite.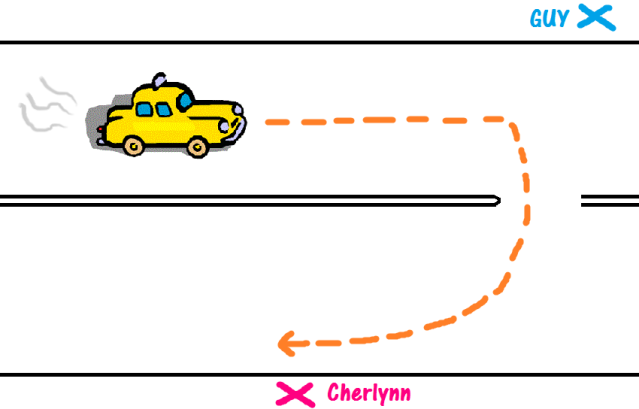 Taxi came by in favour of his direction. Plus he was there first. So I decided not to flag the cab and give in to him lah. Anw, he looks so much richer than me, no reason why the driver will go make a turn and choose me for a customer instead right?
BUT THAT'S EXACTLY WHAT HAPPENED LOL 😀
What a pleasant surprise! Hehehe. Strange rightttt.
Oh and did I mention that while I was waiting, got this stupid old uncle go whistle and nod his stupid pig head at me??? -_- No manners. He really looks like a pig lor.
HOMEWORK WASTE MY MONEY ALSO.
Materials, printing, my time and effort = MONEY!!!
One of our assignments (Scriptwriting ICA3) required us to do a A3-sized print ad for Levi's iPod jeans. Plus a writeup on our ad concept.
HERE'S MINE…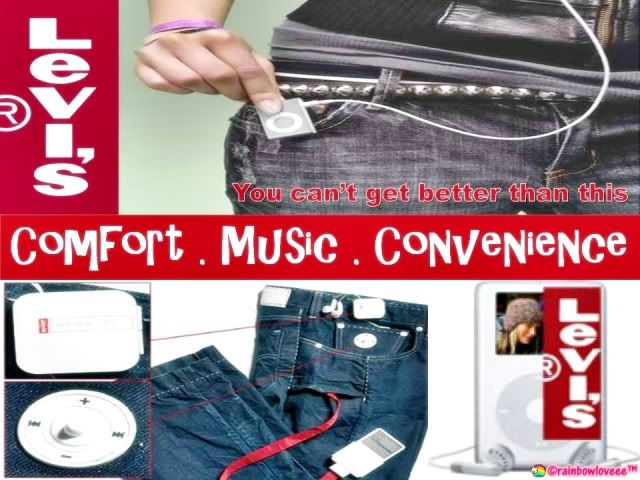 I'm positive no one will ever buy Levi jeans again should they see my ad.
Well, at least I tried.
Classmates all use pro software like Photoshop and Photoplus.
Me? Powerpoint! -_- Just threw in a few images I found on Google and anyhow piak.
Really don't know how use Photoshop all those. My designing skills limited to Paint and Powerpoint only 😀 furthermore I was focusing more on my Journal  + Code Of Ethics (CATS ICA3) that night.
Hohoho I've taken pictures to show the gruelling process of some of my assignments. Must take momento of my hard work, especially since teachers aren't gonna return us our work 🙁
All 9 journal entries!
PROCESS
Went back to edit each and every entry so as to make them shorter (i.e. cheating)
Delete all the quotes from the entries and paste them onto separate sheets of paper instead
Re-print every entry (black and white) and the quotes (color)
This is to save money for printing!!! If print all together as color, wonder how much it's gonna cost when like that already $5…
Cut and paste paragraph by paragraph nicely onto fancy paper as seen
Bloody hard work okay T_T
And I spent over $30 on this ICA alone!!!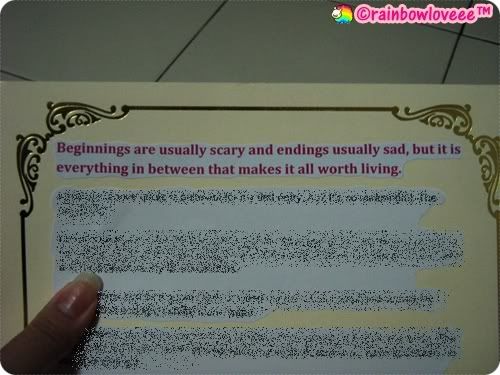 All entries start and end with a quote 😀
No, I'm not gonna show you what I write in my journals.

Royal-looking paper with different designs! >:}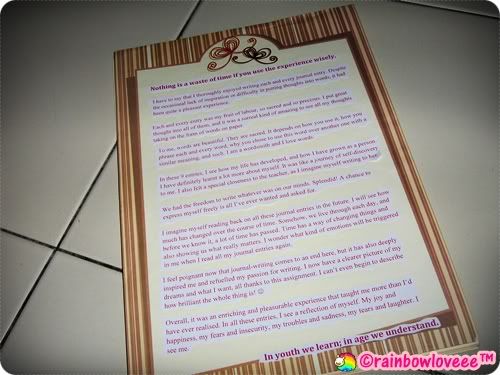 My one-page summary :>
See! All cut with whirly edges & paste paragraph by paragraph leh!

Specially went Daiso to buy giant envelopes to put my journals in. One envelope for one entry! You can't expect me to fold such nicely done up journals and put into regular envelopes right?

Ribbons for decor 😀
No time to decorate by drawing/hand so spend money to buy decor instead lor, hah.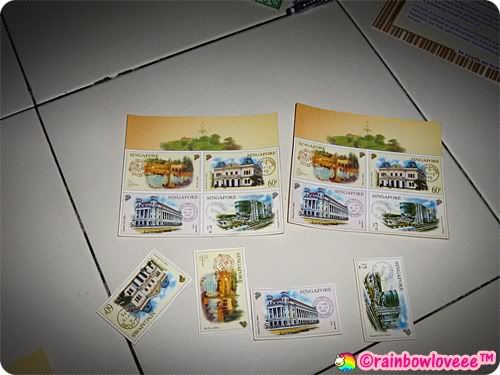 Fake plastic-cardboard stamps from my mom's collection to make my envelopes look more authentic!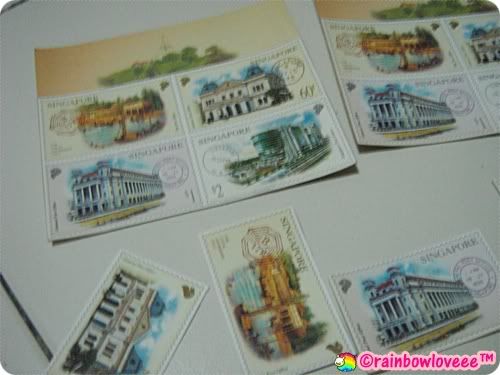 CODE OF ETHICS!
99% of which were done by my dearest mommy 😀

She cut out the heart shapes and wrote all the letters in marker.
I only cut/paste the value on the front, and the quote + description at the back.
There's a reason why I chose these 6 values but I'm lazy to explain here. On the back of these hearts are a related quote and a 50-word description on why I chose the particular value.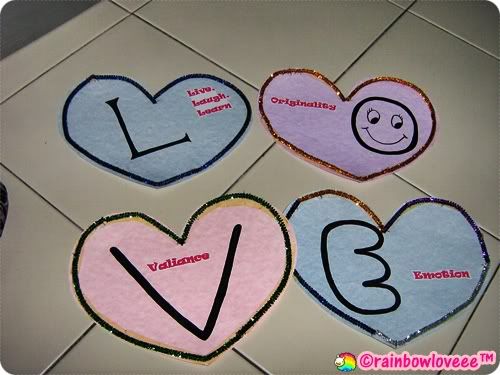 First letter of the middle 4 values form the word LOVE :>

Passion!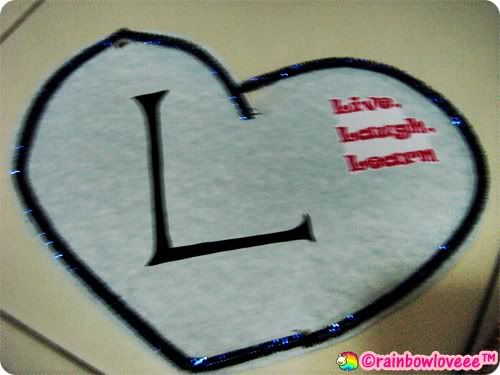 Live, Laugh, Learn!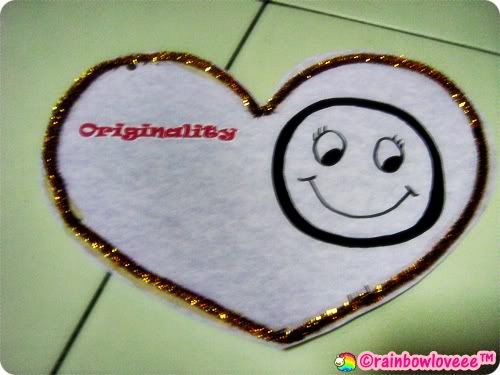 Originality!
(LIKE DUH)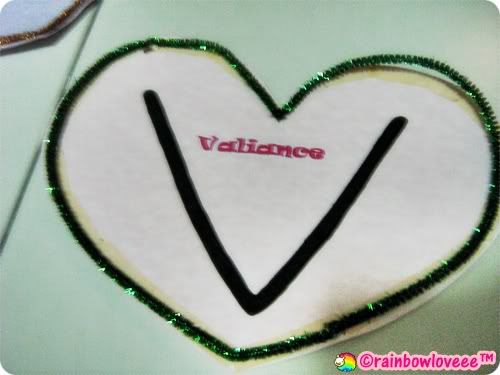 Valiance!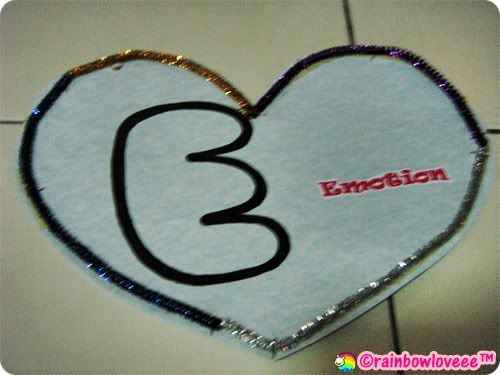 Emotion!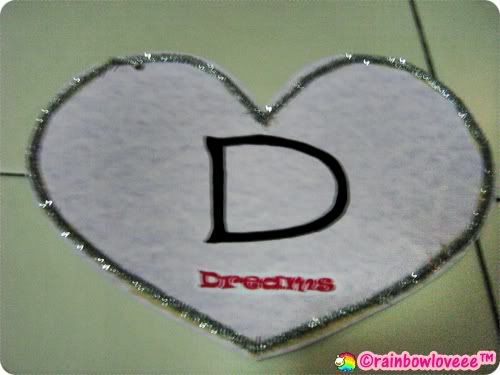 Dreams!
Punched holes and hooked all 6 hearts together.
The shiny tinsel at the edges also done by my mother.
Bloody stubborn things that refuse to stick, she had a hard time doing them :/
Omg thanks so much Buddie ♥
If it weren't for her helping me with my Code of Ethics, I really doubt I'd be able to get much sleep that night.  And what did she get from helping me? Ruined fingernails, a stiff back and… stuff like that 🙁 I feel so mean.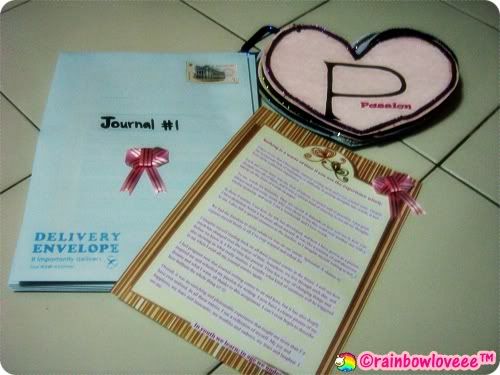 FINAL PRODUCT!
9 journal entries, one-page summary & Code of Ethics 😀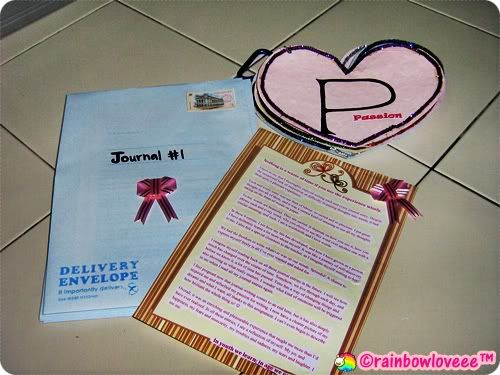 I feel so happy and accomplished (:
Oh and I finished this first before moving on to work on my Levi ad.
One do until so meticulous, the other do until anyhow -_-
Ahhhh anw, definitely a night to remember because this was the very first time when he accompanied me to complete my work 😀 *gush gush gush*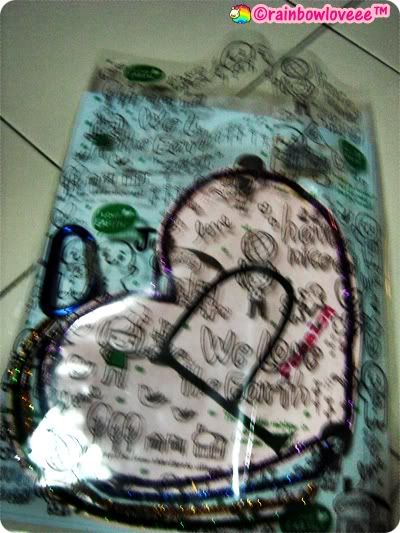 In a nice plastic bag from Artbox, all ready for submission! 😀
CATS > Scriptwriting 😀
Oh and I scored 44/50 for CATS ICA2 written test!
Highest in class, if I'm not wrong! 😀
Gotta be my biggest accomplishment so far in NYP hahaha.
I didn't even study or do the previous 2 exercises please!
It just happened to come out on social media and networking, one of my favourite things 😀 ooooh and writing an essay about it? Brilliant x 2 because I love free-response writing (i.e. anyhow crap)!
Ms Soo wrote "Excellent work :)" on my cover page!
Wah compare this with DFVP the sad face LOL.
Anw, last assignment I have pictures of is Scriptwriting ICA4, where we have to come up with 2 advertisements (30-seconds each) for POLO mints in groups of 4. Need do storyboard and AV script T_T
Split into 2 sub-groups, one advertisement each. I paired with Efa :>
AV script was done by her, and we split drawing the storyboard half-half!
These are my parts, I did the last 15 seconds: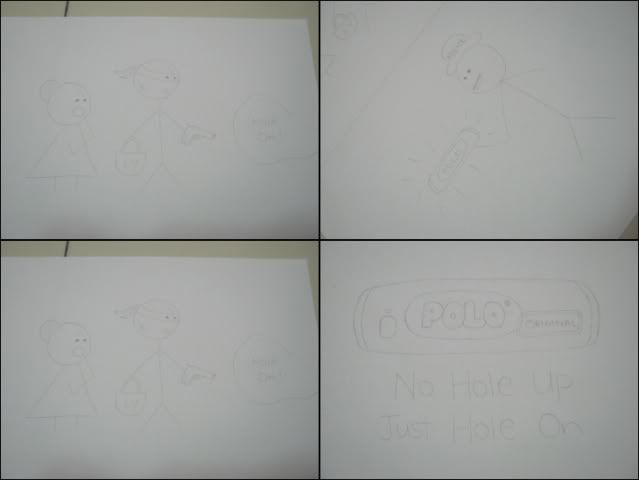 2 scenes on one side of a A3-sized drawing block
Oh em gee. I really took suggestions to draw stick figures seriously. But when I went to class, I think I'm the only one who drew stick figures! Ahhh all bluff me one!!!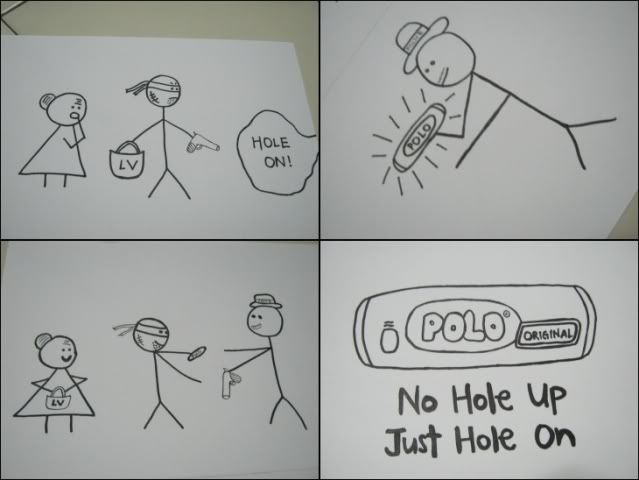 Knn this is my third attempt you know.
Nothing impressive, but at least I tried.
I had to redo two times because the first time, I was drawing halfway when I had a sudden burst of inspiration on how I could do better. Second time I had a mishap involving the marker.
Now let's take a closer look on how the story flows.
The first 15 seconds were about a robber closing up on a old lady.
He exclaims, "This is a hole up!" (hold up = robbery)
Pun intended, obviously.
Hello, we are talking about POLO mints and it's always emphasizing on its stupid HOLE.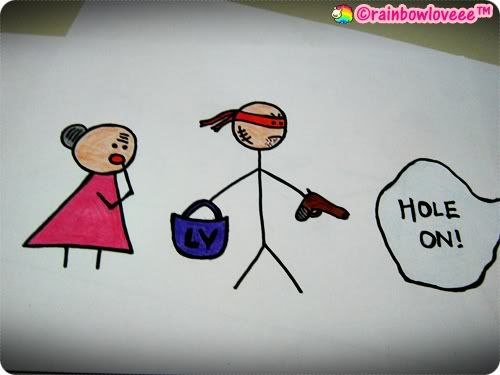 He robs her LV bag (I know there is no purple LV bag but it is called improvising) but is interrupted. Pun again.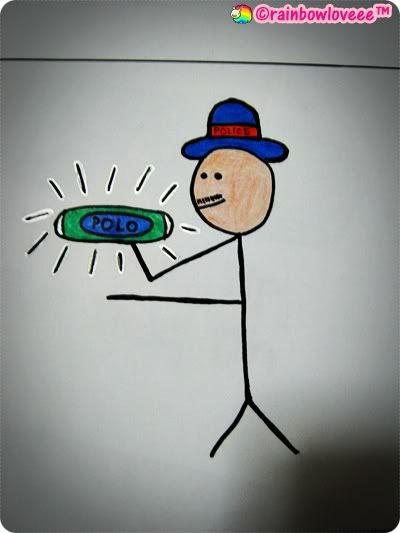 The Almighty Pol… o.
Polo, not police.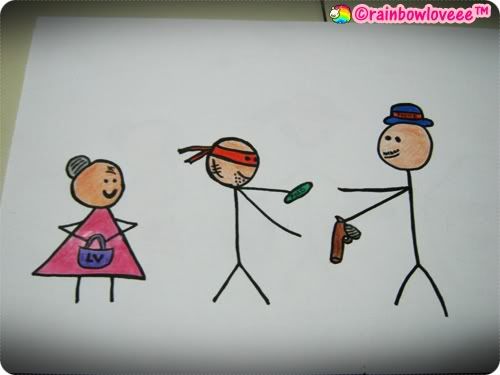 It is so mighty that he doesn't even want the LV bag anymore!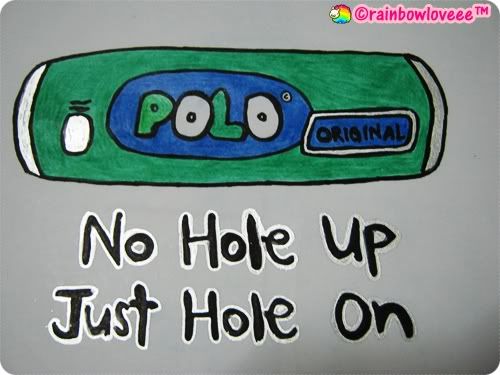 Final scene with the tagline, and also my favourite 🙂
I REALLY GO GOOGLE A BIG CLEAR IMAGE OF POLO AND FOLLOW CLOSELY IN MY DRAWING YOU KNOW.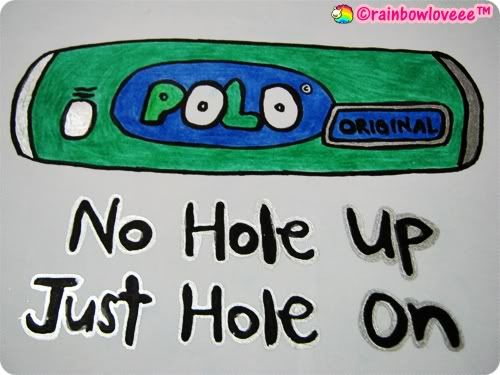 Aiya I am not a born artist anyway.
Drawing has never been one of my talents.

So… this concludes the last 15 seconds of the ad.
Omg now the more I see it, the more crappy I think it is.
Neverminddddd I really did put in effort for this one!
Ahhh okay I iz very the lazy so I shall stop here.
Not only does homework take up a lot of my time, even a blog entry about homework takes up so much time! D:
I started this poast at 7.55pm, it's 12.47am now -_-