Talad Rot Fai Ratchada: The night market in Bangkok you should be visiting
Just got back from a 5D4N trip to Bangkok with my mum and bro (I know, I know, I just returned from Guangzhou two weeks ago LOL) which is also another eat-shop-sleep-repeat kind of holiday 😀
Bangkok is a destination that has been blogged to death plus it's my 4th time there, so I won't be writing a lot about it, but I did visit Rot Fai Market Ratchada for the first time and feel that it's still quite underrated. So here are some food photos!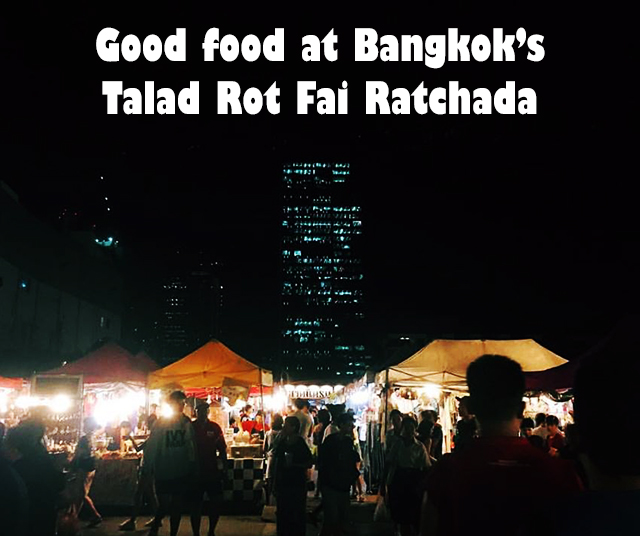 Known as the "New Rot Fai Market", it is located in the Ratchada area and just beside Esplanade Shopping Mall. The closest MRT station is Thailand Cultural Centre but we took an Uber because Grab/Uber in Bangkok is super cheap. The original Rot Fai Market in Srinakarin, while larger, is also a lot further and not as accessible.
I read that prices at Talad Rot Fai Ratchada are even cheaper than the famous Chatuchak and I wasn't disappointed. We headed straight to the food stalls for dinner and coming here on an empty stomach proved to be a wise decision!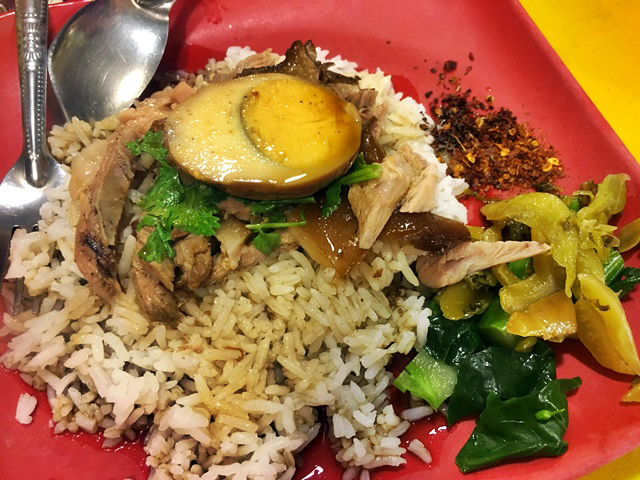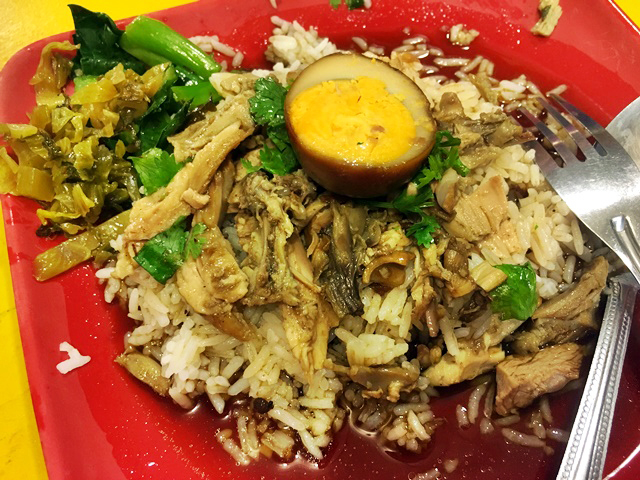 Duck rice and pork leg rice at only 60 baht each! I love that most pork/duck/chicken rice in Bangkok is tasty without being greasy and always comes with eggs and vegetables. This one even had both leafy greens and salted vegetables.
Anyway I got so excited that on my first mouthful of rice, I choked on the chilli powder, coughed and started tearing. Two girls seated beside us were very stunned when they saw me crying (I was touched by how nice the food was la hahaha).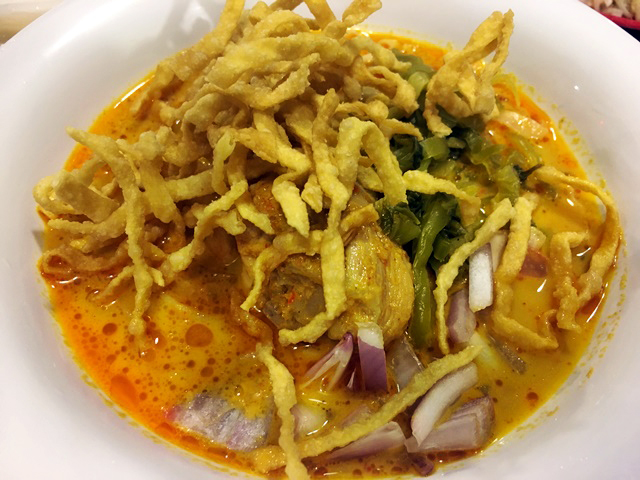 Curry chicken noodles for a mere 50 baht.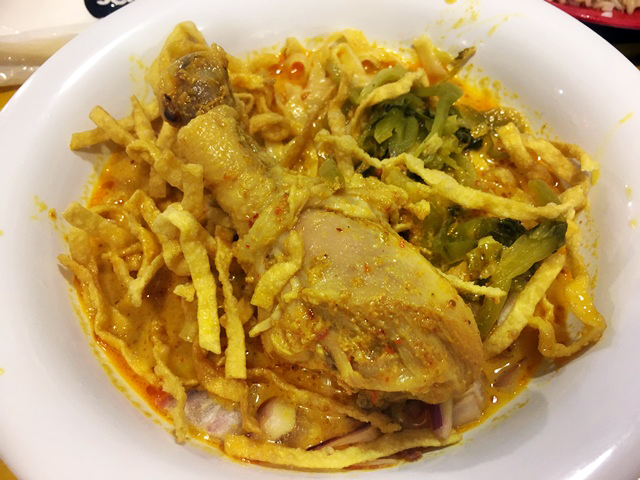 It even comes with a juicy drumstick! I don't like the crispy bits on top though.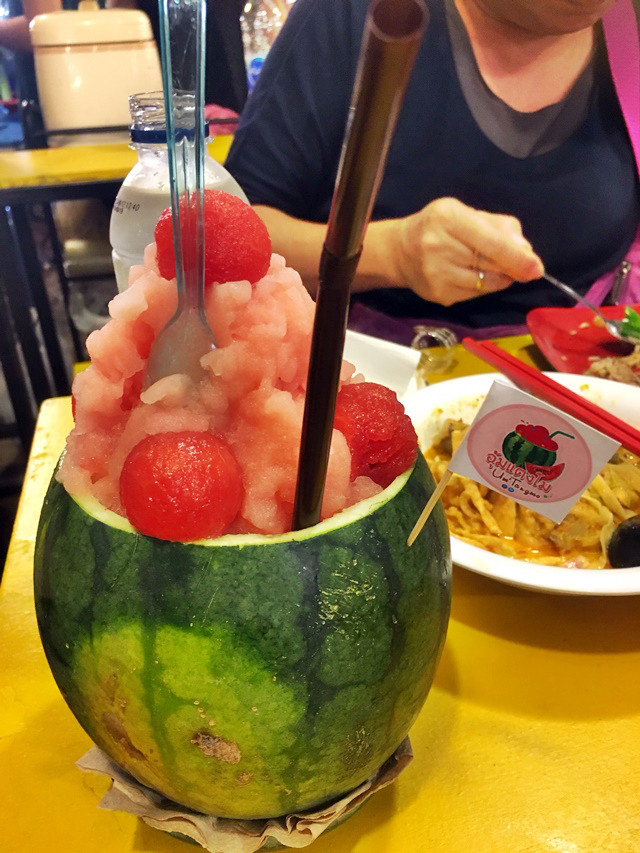 Sooo refreshing to have this while strolling down all the stalls in the humid weather.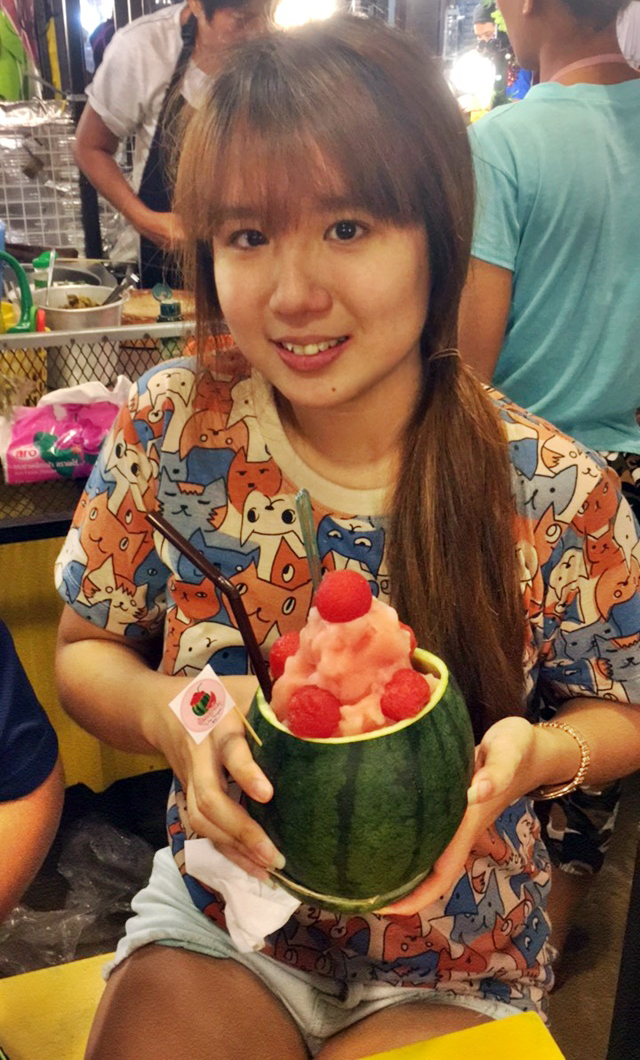 This iconic watermelon dessert costs only 60 baht (around S$2.50) and you can find them everywhere in Chatuchak for the same price, if I remember correctly. Yet people queue like mad and pay like $12 (?) for it at Geylang Serai…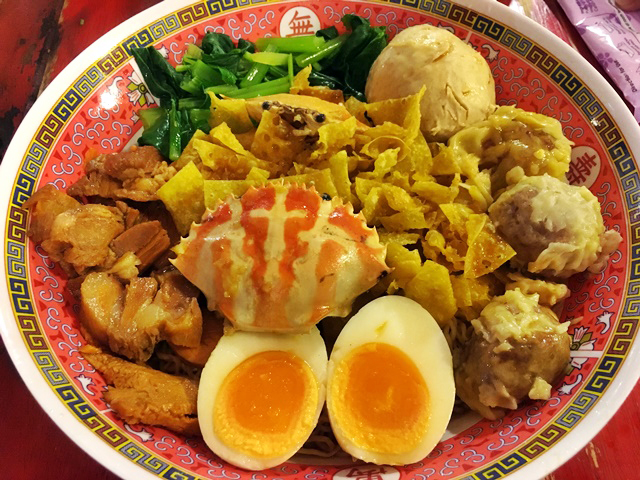 This is freaking glorious!!! Think of it as upsized bak chor mee with braised pork, different kinds of meat balls, eggs and 'mini crabs' (not actual crabs but there's minced meat with crab roe under the shells).
One bowl for only 170 baht and there's an even bigger bowl for larger groups!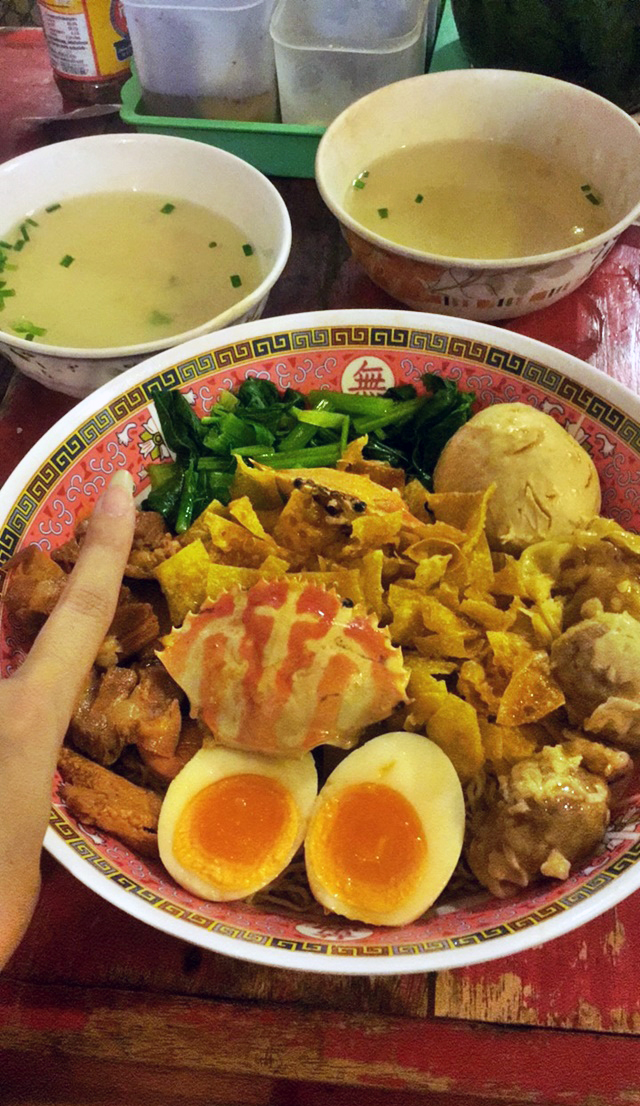 My finger for comparison… wahaha.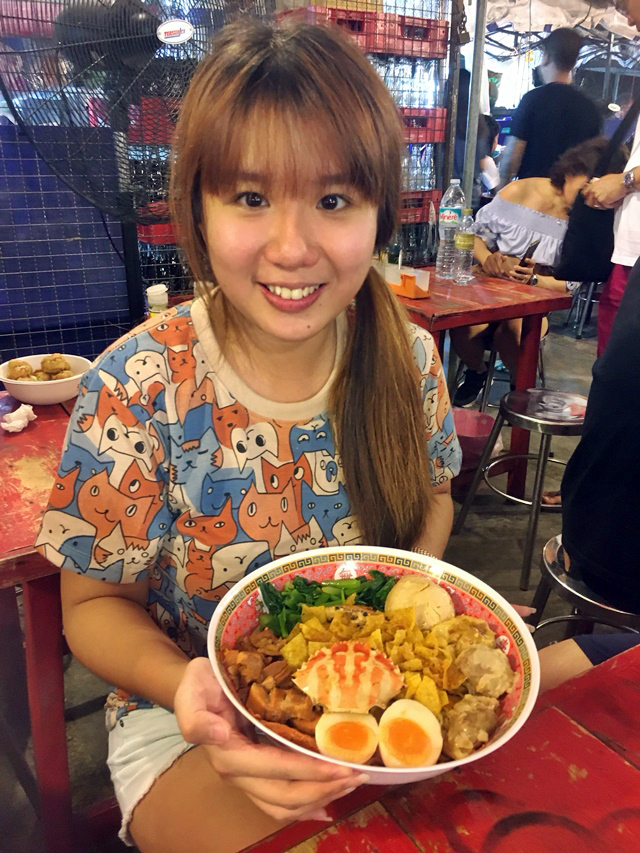 Damn tasty and a must-try, but I recommend ordering it only if you have at least 3 to 4 pax. Well, you can try 1 or 2 pax too if you don't plan on eating anything else at the night market, which is quite a shame.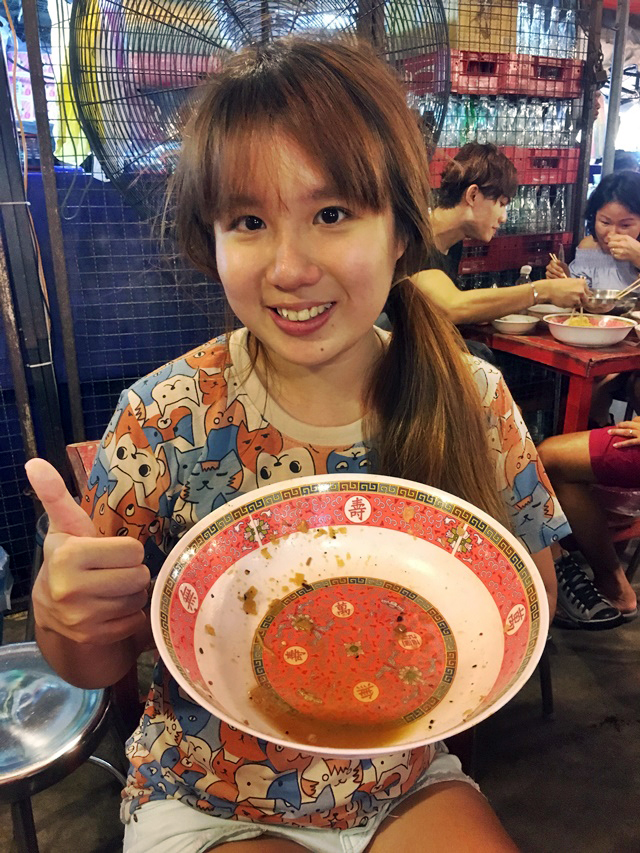 If you are wondering how we can finish this and still manage to eat so many other things, that's cos you haven't met my brother and/or witnessed my full eating prowess hahaha.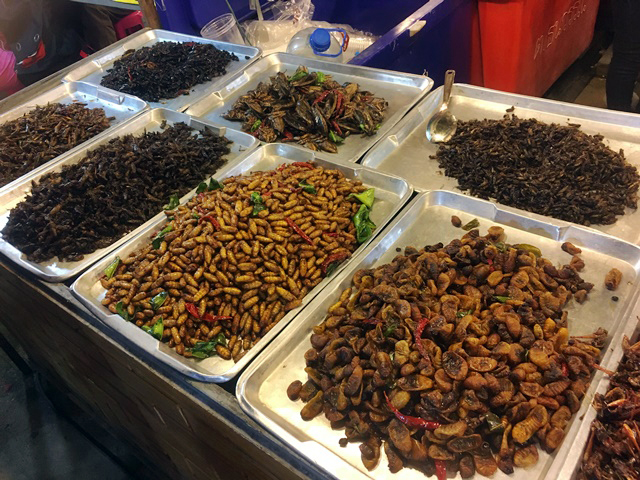 Okay I didn't eat any insects. Have never tried them either.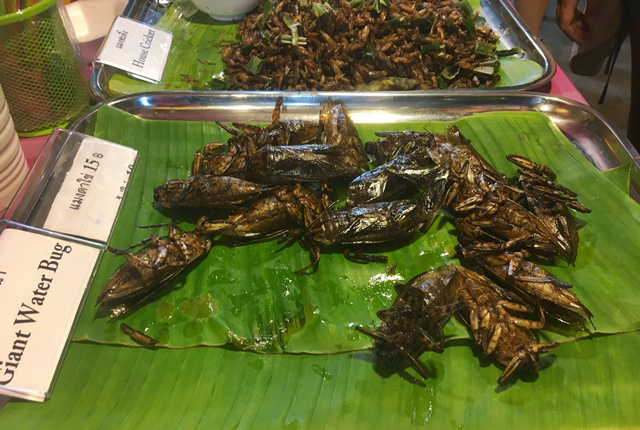 These look like very fat cockroaches ugh…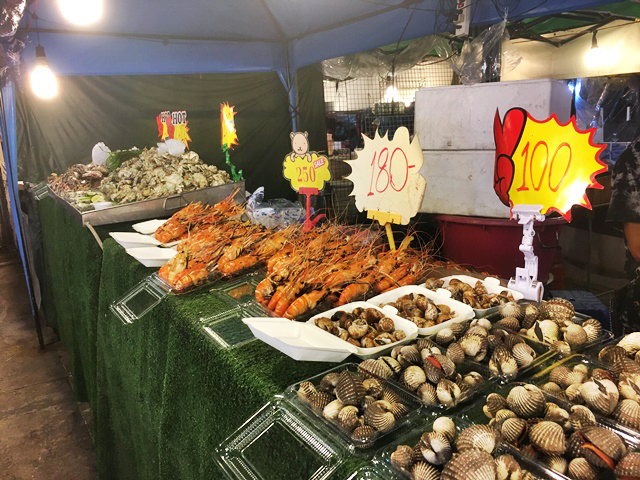 Seafood is very affordable here too. Somehow the river prawns and cockles I saw at various places are all damn huge. Even the couple of prawns accompanying your pad thai from the food court are big and fresh.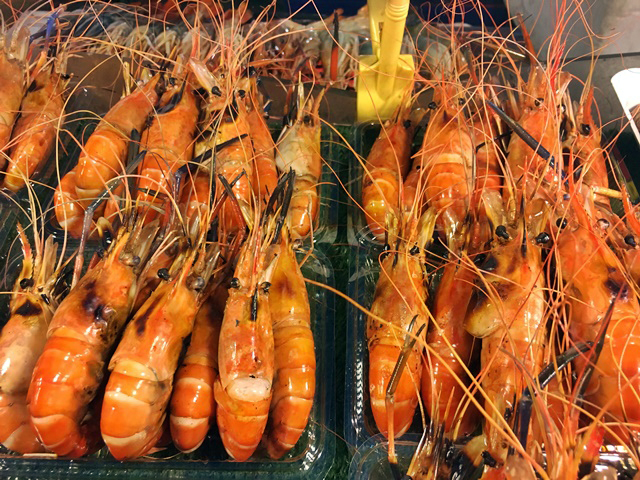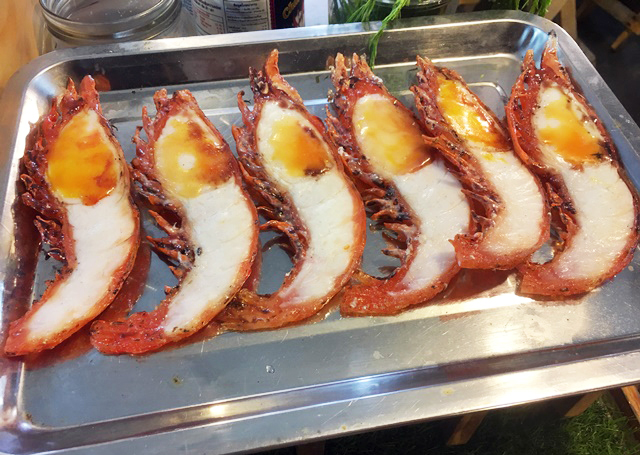 Looks damn good huh??? Sadly I didn't try the seafood at Rot Fai Ratchada because I was too full, but there were plenty of stalls (you can get sashimi at 50 baht) and one was even crab-in-da-bag style.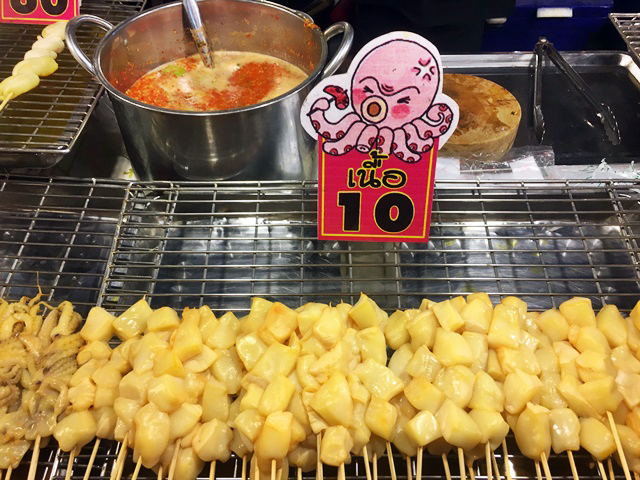 I have no idea which part of the sotong this is, but it's sooo good that I returned to dabao 3 more sticks. Grilled to perfection and of the right texture, plus it goes so well with the chilli sauce. And yeah only 10 baht per stick!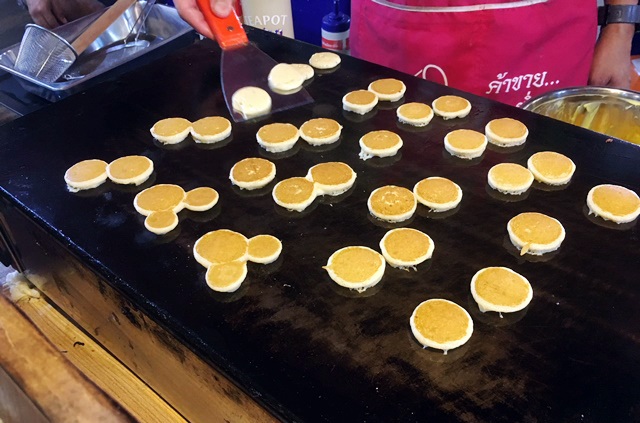 Super cute mini butter pancakes for 20 baht per cup!!!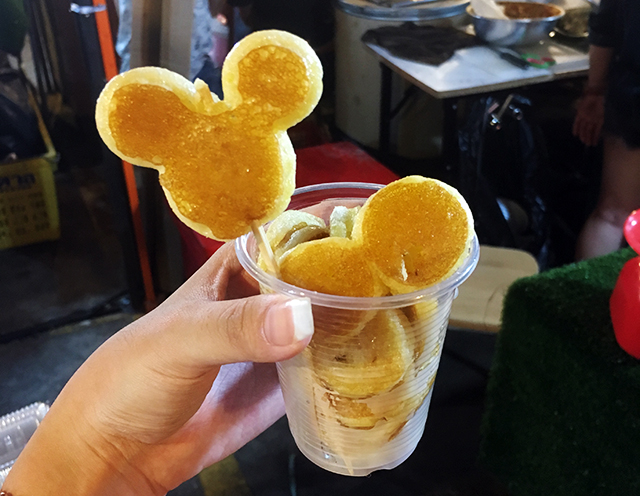 Really damn cute and true to the display sample, mickey mouse ears and all. You can drizzle your own sauces too so I chose maple syrup (nothing beats this) and it was heaven.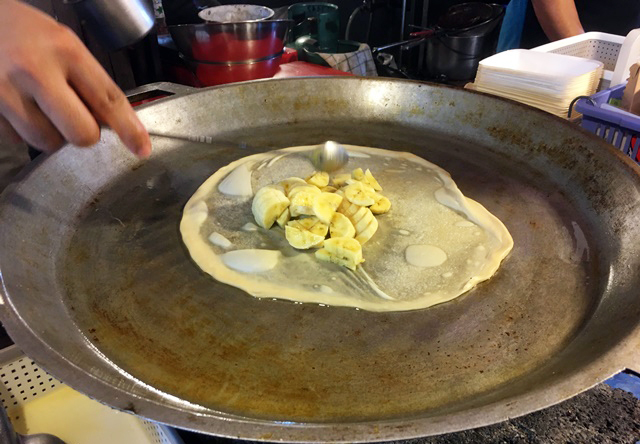 Thai roti is another must-eat when I'm in Thailand… it's the same thing that I was craving during my solo trip last year and went out with a torchlight to buy late at night hahaha.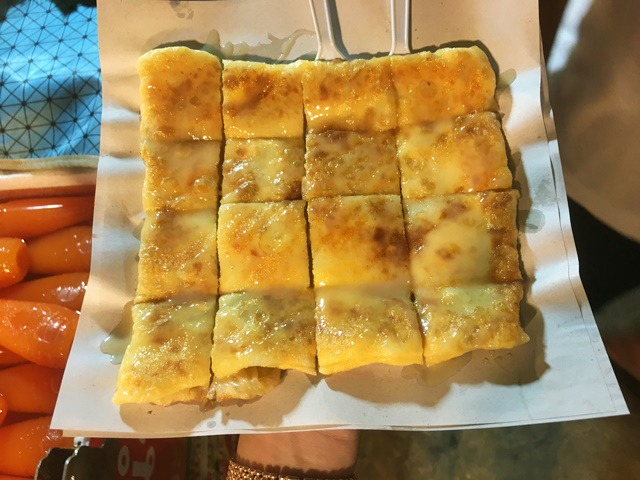 My favourite flavour is just plain with egg and drizzled with condensed milk woohoo. But there are loads of other combinations involving bananas and nutellas and whatnot.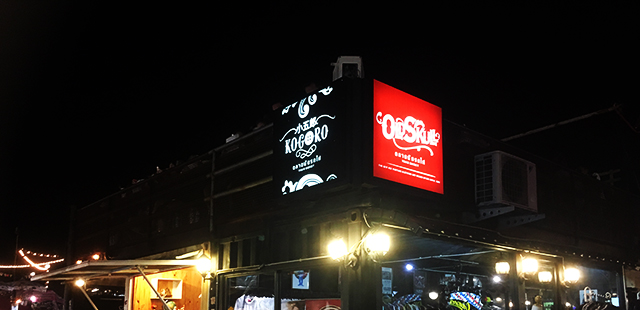 The highlight of Talad Rot Fai Ratchada for me would be the wide array of cheap but delicious food. Besides live bands, there are also lots of bars (you can even sit on the "roof"), and shops selling clothes/souvenirs/etc (though I think Pratunam is still the cheapest for shopping), so it's really quite a bustling and exciting market to visit at night.
Hopefully the prices don't go up like what has happened to many other places in Bangkok due to tourism. But quickly pop by just in case! ? (I also went to Talad Neon but it's quite overrated and not as cheap so skip that).
Opening Hours: 5pm – midnight daily
Location: Ratcadaphisek Road, beside Esplanade mall
Nearest station: Thailand Cultural Centre MRT