7 must-go cafes with heavenly food at hawker prices in Bandung
Did not blog at all for the past three months but I haven't really been using social media much either. Anyway it's been 1.5 months since Farah and I went to Bandung! 4D3N of eat shop sleep repeat and it was the most relaxing holiday I ever had because I'm usually trying to see/do/try as many things as possible.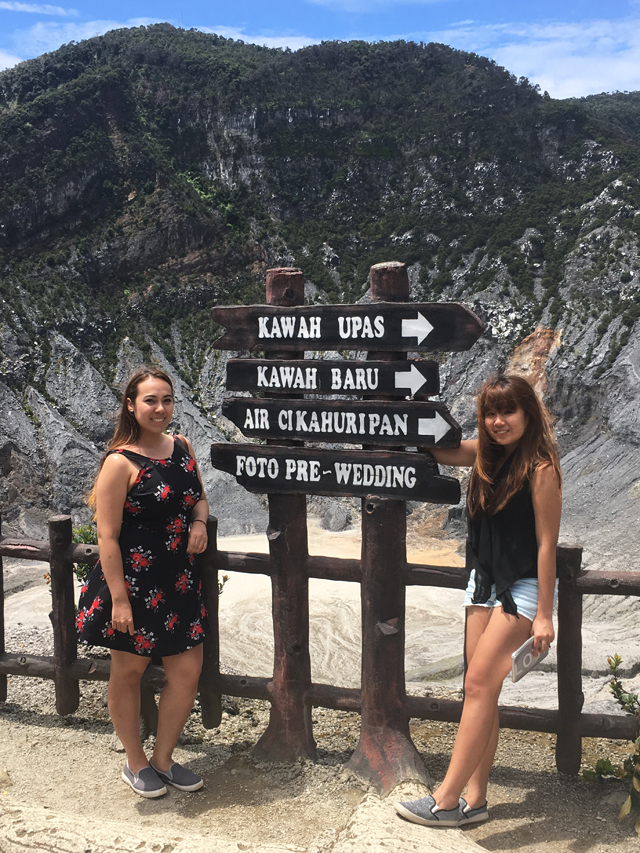 Everything is so cheap and scenic but what really stuck out to me for this trip was the food. Farah looked up quite a number of must-go cafes and we loved every one of them. Every meal dish we ordered was SO tasty!!! I didn't know Bandung's cafe scene is so… up there.
Here are all the cafes we visited in chronological order. Highly recommend them all! #triedandtested The food photos are all mine, but I didn't take any exterior/interior/decor pics so those are from other websites.
1. Warung Sangrai Bandung
First meal in Bandung! We were starving after landing and checking in. Was walking around and saw this nondescript eatery so we decided to just eat here because HUNGRY. Best decision ever because even now, I'm still thinking about the sambal chicken I ate.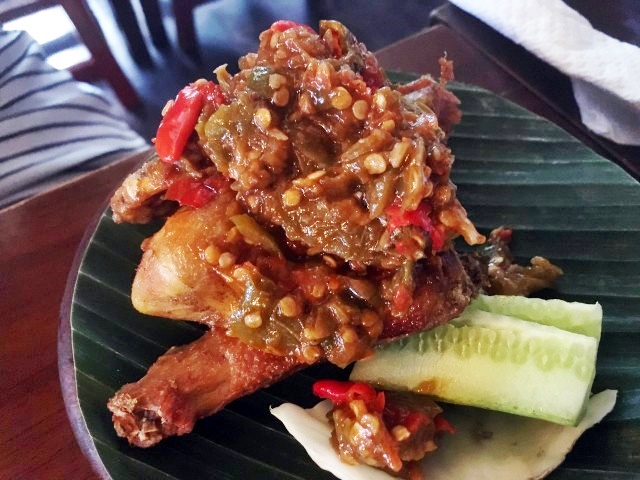 One of the spiciest things I have ever eaten and the chilli is so freaking delicious that I'm having cravings. Comes with white rice aka another of my favourites. Omg why is this simple dish so goooood???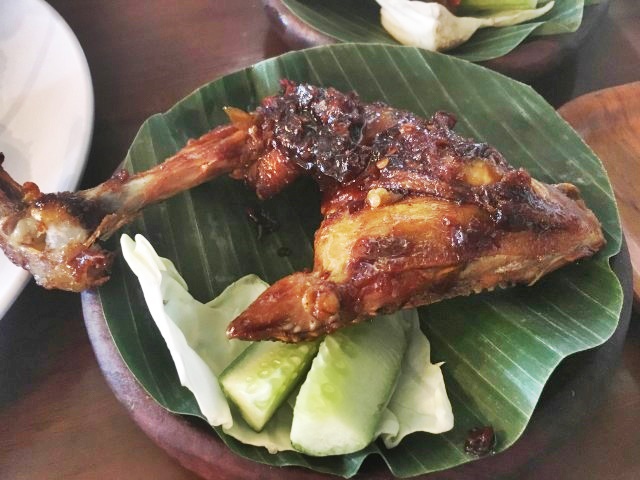 They have a lot of different flavours on the menu and you can choose if you want quail (their specialty – I regret not trying this because I saw other people eating and it looks damn fat plus juicy) or chicken.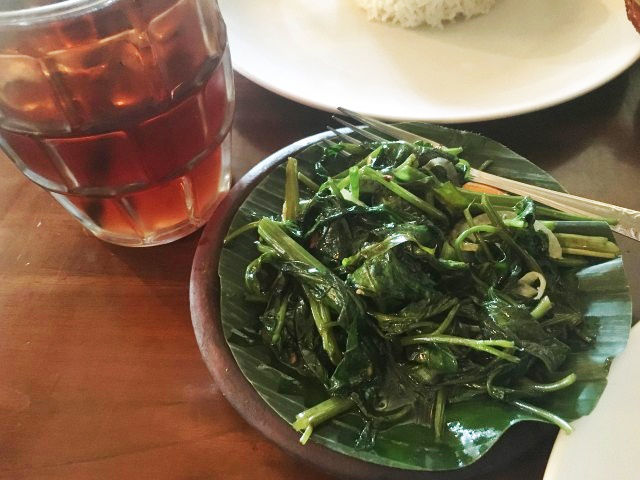 Kangkong to share and a big glass of iced sweet tea for only 50 cents wtf… damn refreshing after all the walking around in the sun.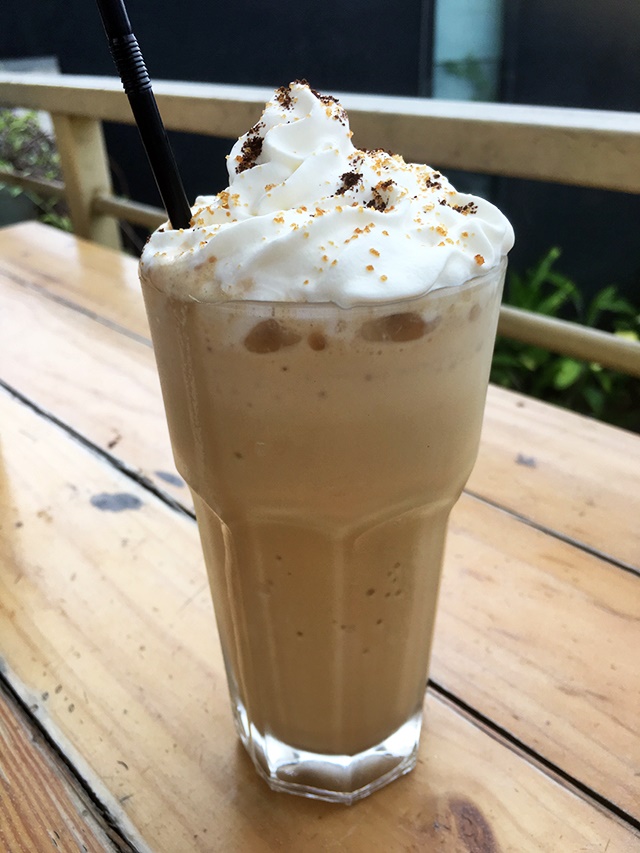 Chilling with coffee on the third storey of a very cute hut-type cafe later in the afternoon, after hours of shopping. $3 for this awesomeness!!!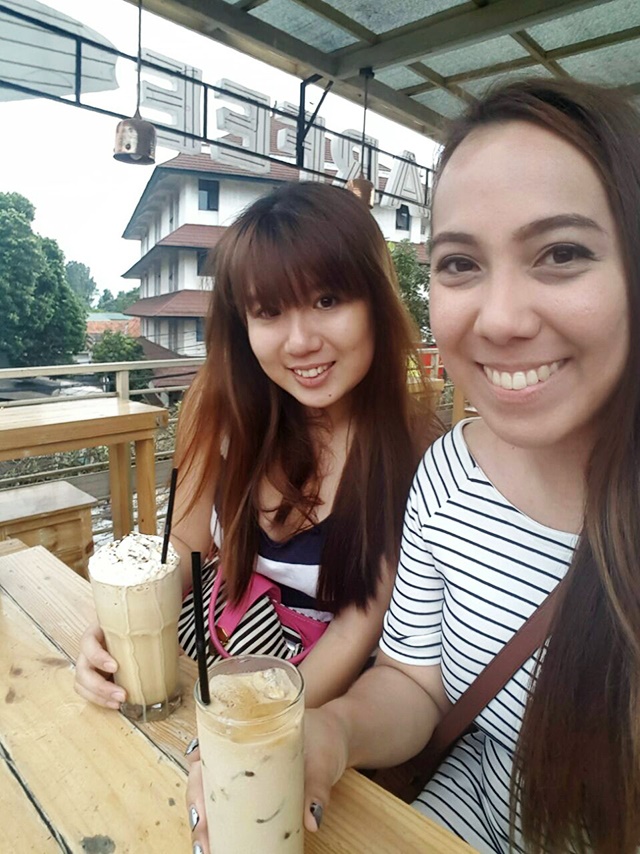 2. EatBoss cafe
Another place that makes me wanna faint with its unbelievably cheap prices. You can get pasta that costs less than a dollar here! Sadly too much food and too little stomach space.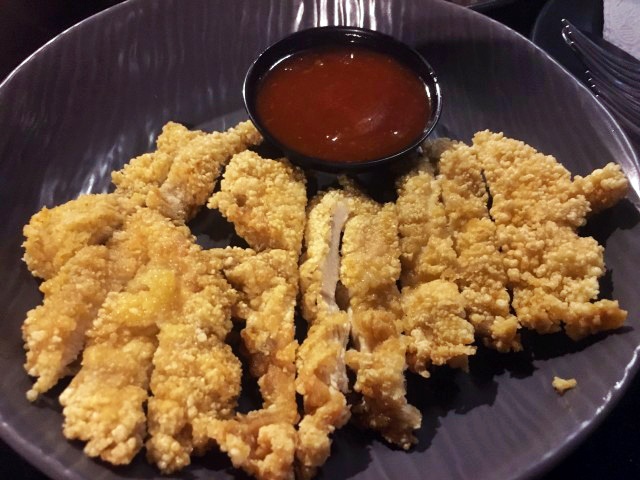 Chicken fingers to share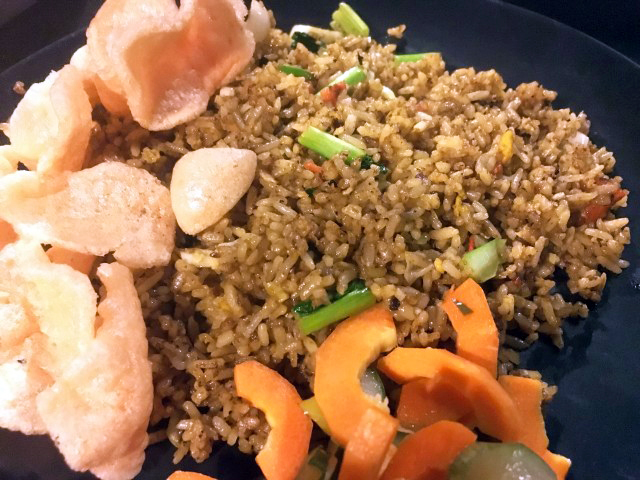 There are pieces of beef in this!!! Have I ever told you guys how much I love rice?
Some banana + cheese + chocolate + milk for dessert. Yum!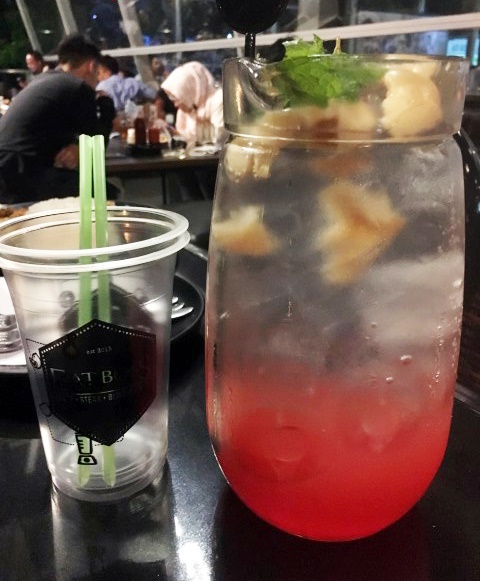 A very epic thing happened here. I ordered a lychee mojito priced at 30,000 rupiah ($3) thinking it was just one glass. When the server came with one whole pitcher, I thought he was going to pour a glass for me and the rest was for others who ordered the same.
But he put the whole pitcher on my table and I looked at it with a very stunned expression, which Farah saw. Then we looked at each other at burst out laughing.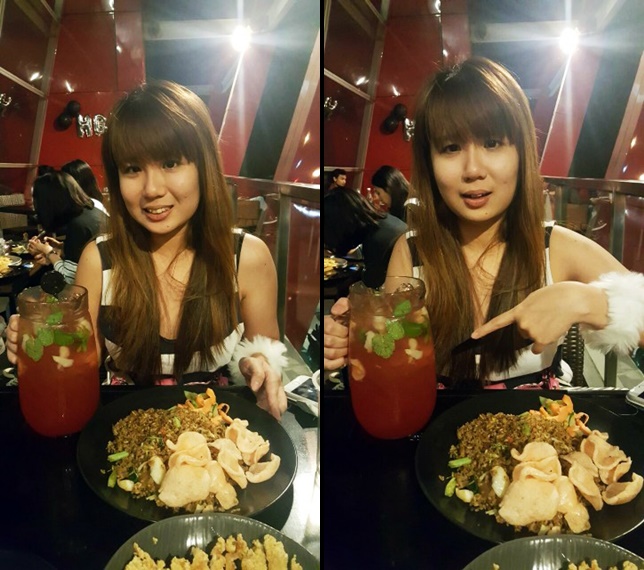 $3 for this whole thing with lychee inside… Are you kidding me.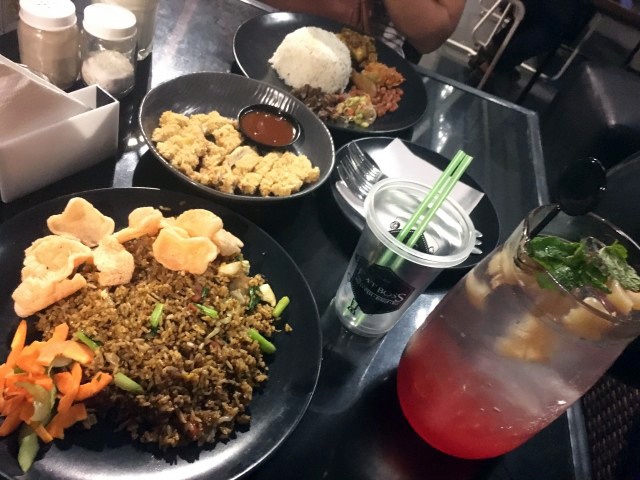 So we had a full course meal (appetiser, two sets of rice, dessert, my gigantic drink and Farah's milkshake) for a whopping $14. Can you see why I didn't want to leave Bandung?
3. Gubug Mang Engking

On Day 2, we hired a driver to bring us to Mount Tangkuban Perahu and around Lembang. He brought us to this very quaint, tranquil and gorgeous floating restaurant for lunch.
P.S. This is not within the famous Lembang Floating Market, where there are lots of individual floating food stalls at even cheaper prices.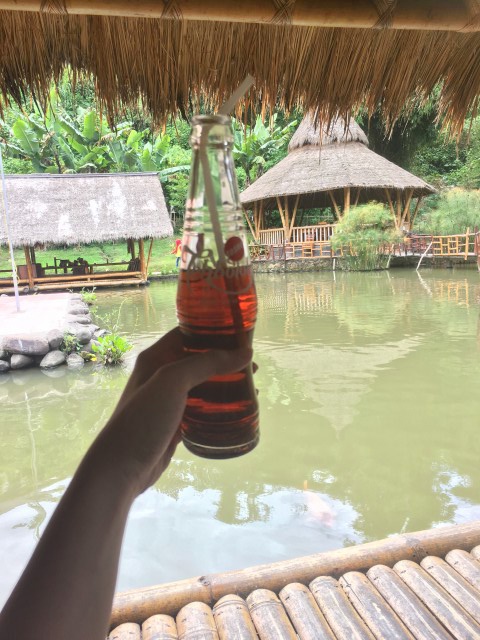 Teh botol!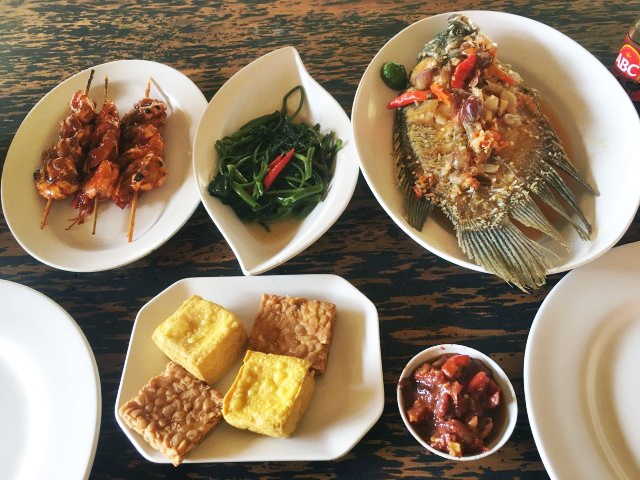 We ordered this set meal for two (drinks included) and the total amounted to less than $25.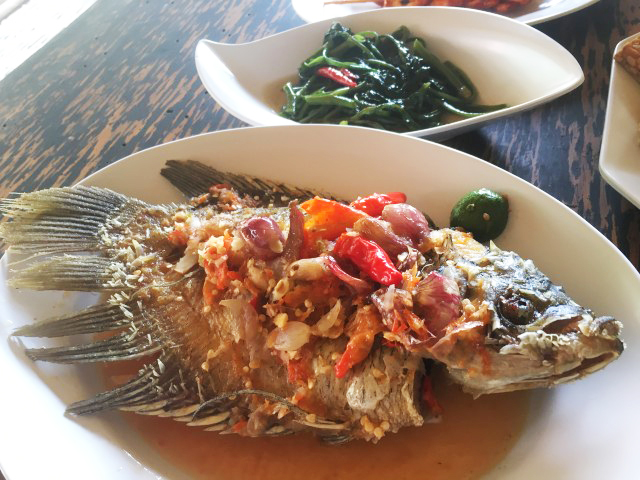 Super fresh and nice fish! Our driver said the restaurant only catches the fish from the lake when someone orders it, though I'm not sure if he's serious.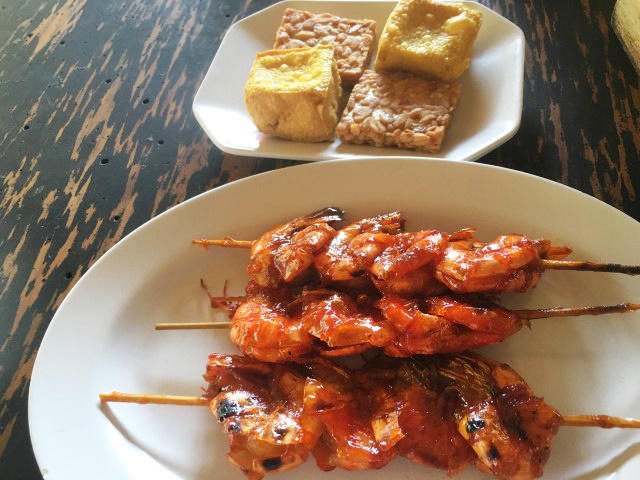 Everything is damn good la. I don't even like tempeh normally but this one was so crispy.
4. The Stone Cafe
Here for dinner at the recommendation of our driver after a whole day out. We were sooo tired!! After the garden and mountain and lunch, we went to Lembang Floating Market, then the Farmhouse followed by loads of shopping.
Prices here are slightly steeper than the rest of the cafes on this list but it's still very affordable and you get a very pretty view of the city lights. Based on photos that I Googled, you can see very gorgeous sunsets if you come at the right hour too.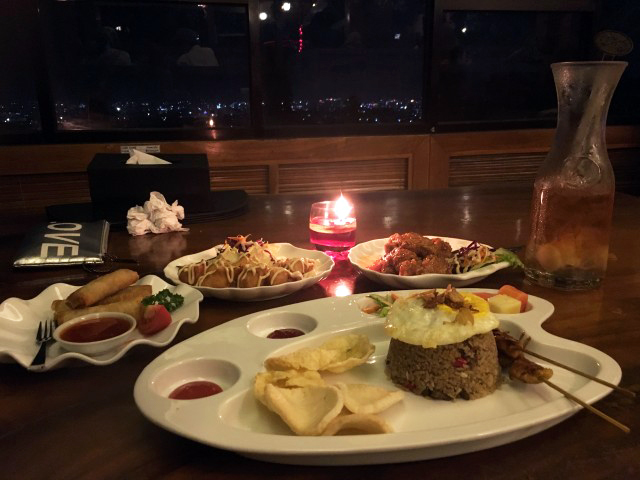 We were in an enclosed space but I think you can ask for an outdoor hut if you want.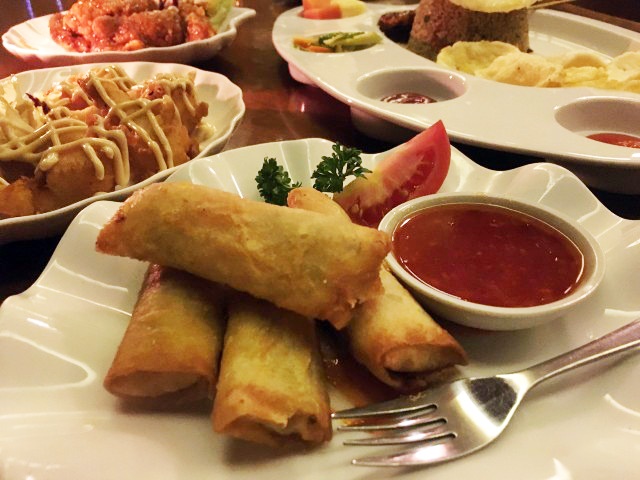 Neither of us were very hungry so we decided to share, so everything was just nice.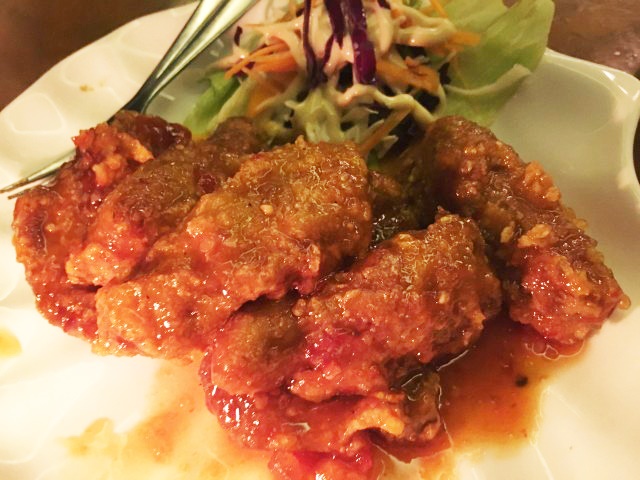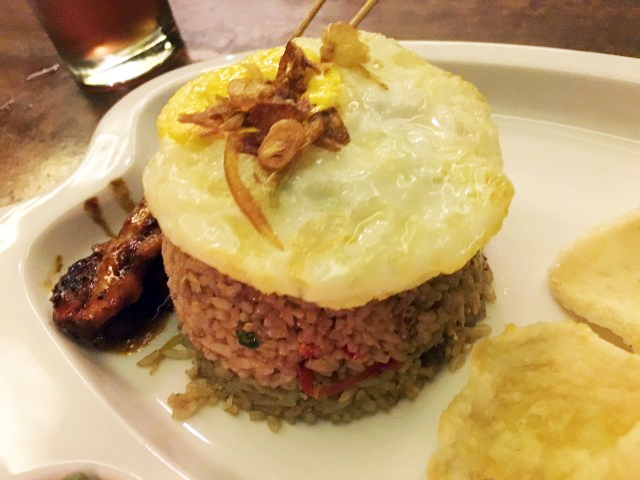 5. Dakken
Day 3 and ya I cannot believe this colonial-like building is a cafe either. It's damn spacious and comfy inside plus they have so much variety on their menu!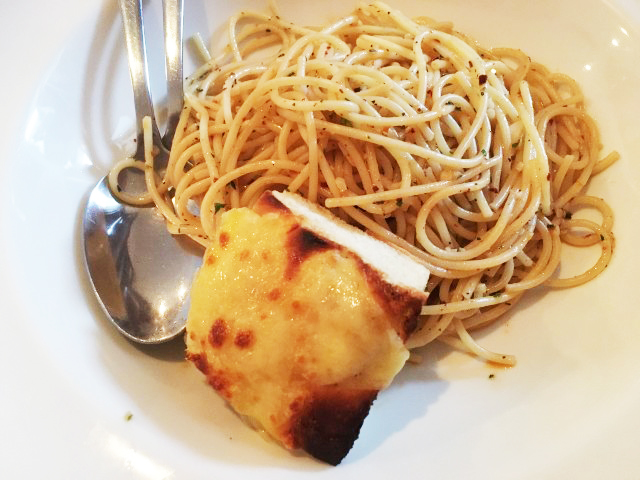 Aglio Olio for only 30,000 rupiah aka 3 bucks!! And it looks plain but tastes like heaven.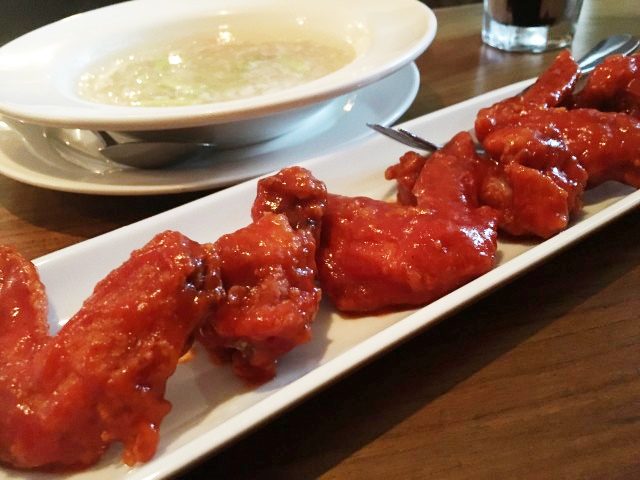 Delicious buffalo wings for 37,500 rupiah and soup (with crab meat, asparagus and egg drops) for 22,000 rupiah… #letmedie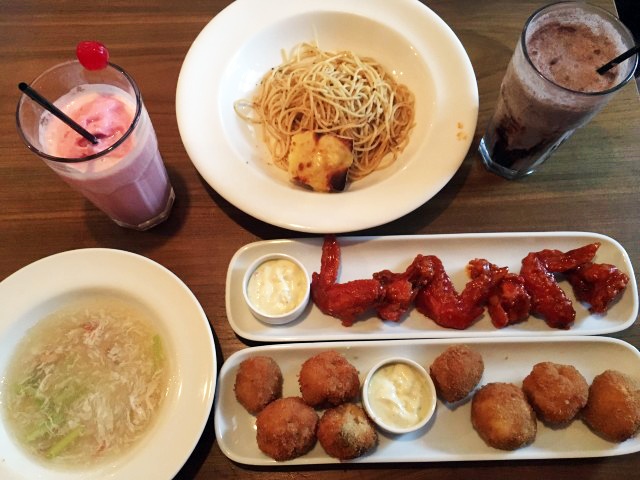 We also had mushroom fritters (the juiciest mushrooms and cheese stuffed in those balls) that went very well with the garlic cream sauce, a smoothie and a milkshake. Damn full despite sharing but no regrets.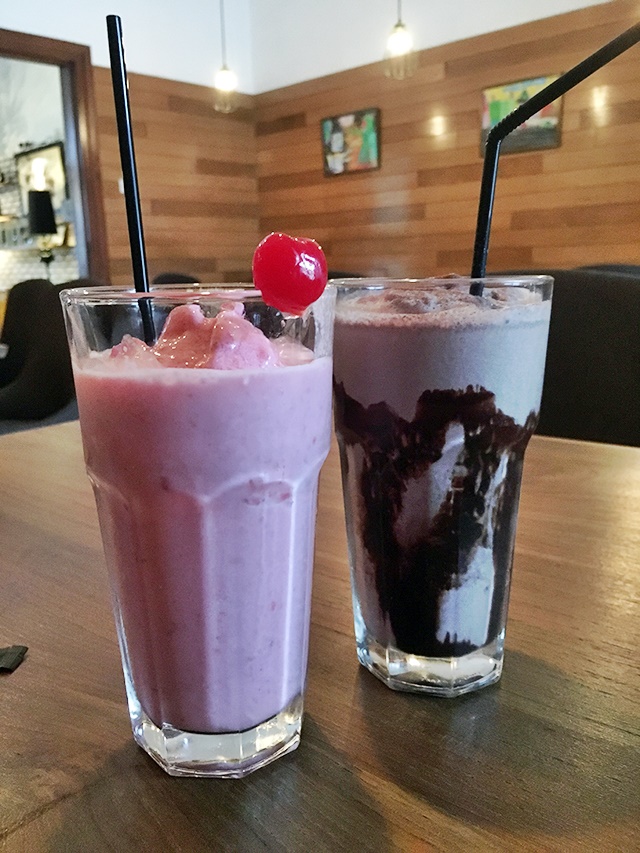 6. Hummingbird Eatery
Hands down the prettiest cafe on this list. The outdoor sitting area really looks like this!!! True to its name, the decor is entirely hummingbird-themed. This applies to the freaking extensive menu where every item has a super nice name too.
Farah said she feels like now she knows everything about hummingbirds thanks to the doodles and facts on the wall. Another thing I love about Bandung's cafes is that many of them have plush sofa seats.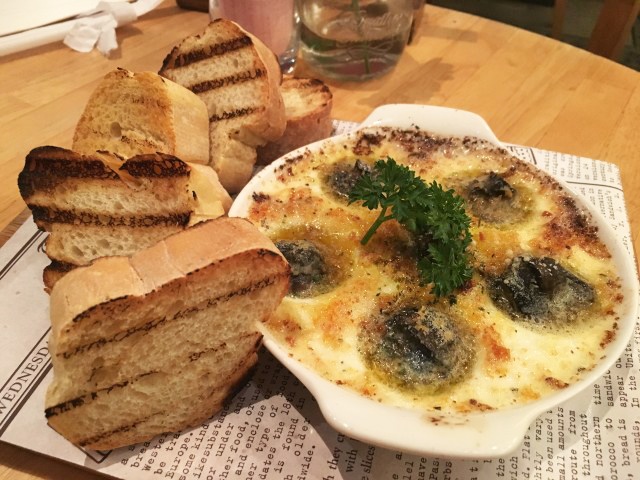 Escargots in garlic butter for $4 (there's even bread)!!!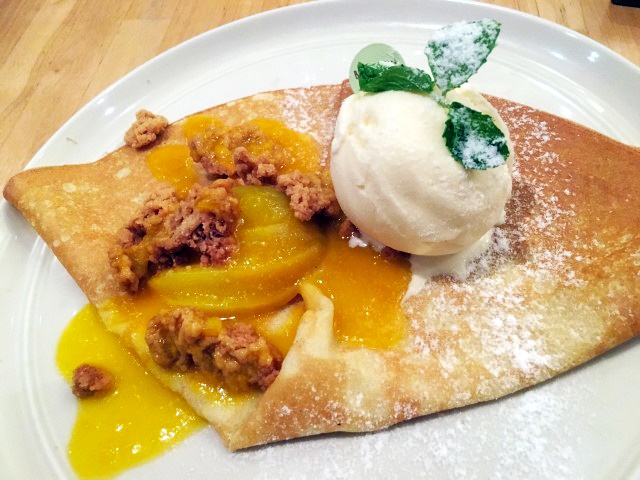 They have loadssss of crepes, waffles and pancakes for you to choose from, in addition to the appetisers and mains, and the drinks menu is even crazier.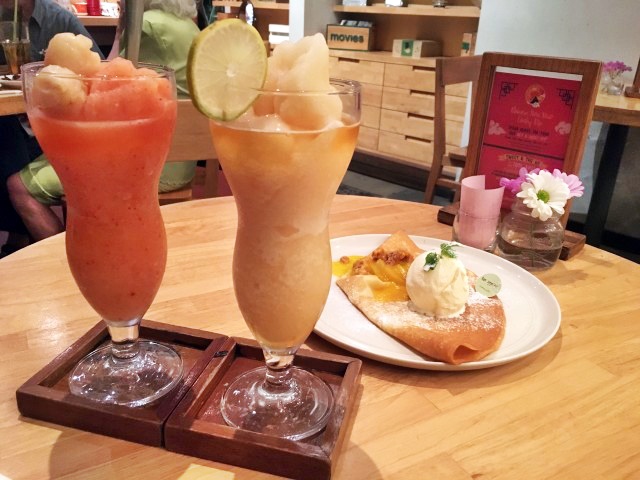 Super refreshing lychee and elderflower drinks. I wish we had more stomach space because everything sounded so good. We had wanted to pop by a third cafe but were sadly too full and didn't even try the mains here.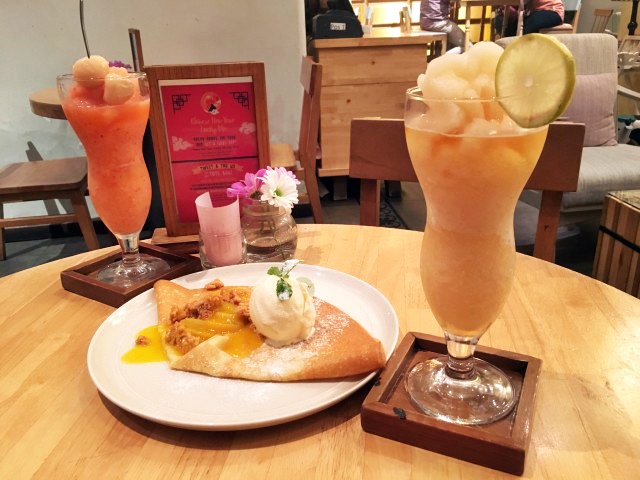 7. Nanny's Pavillon
Last day and final meal in Bandung! 🙁 Another of my favourite places…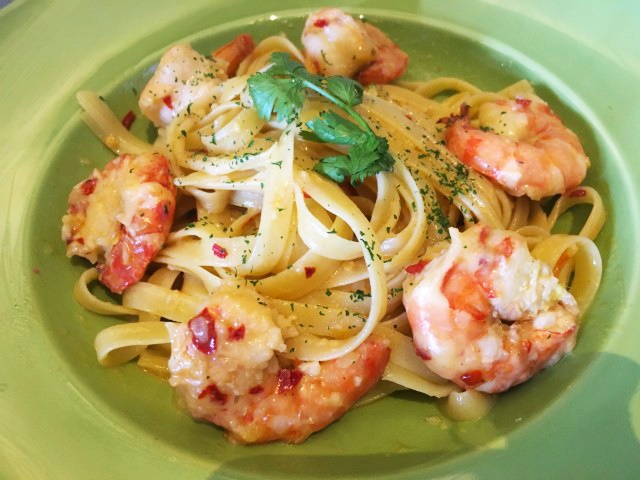 Prawn fettuccine that's to die for…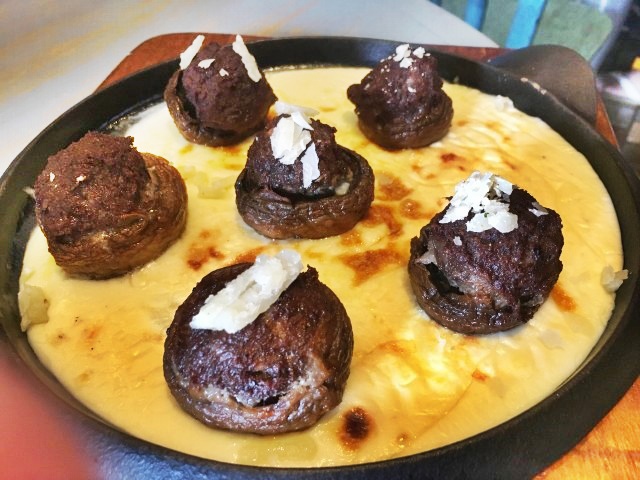 Meatballs suffed with mushrooms in a cheese pan. PURE HEAVEN. If you saw my IG stories, you would have seen how stretchy the cheese was hahaha.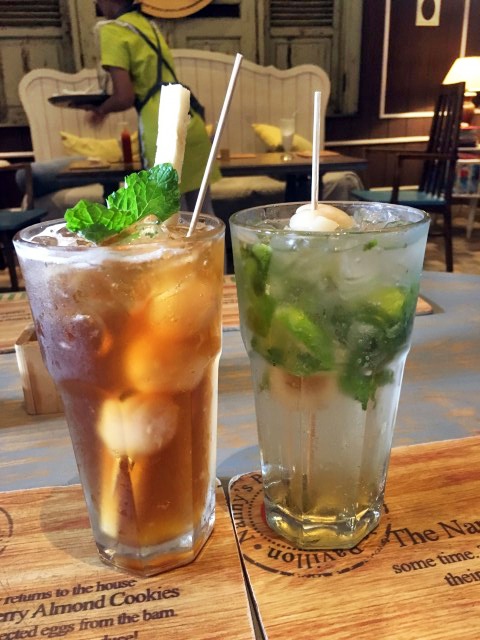 Never had such fragrant and aromatic fruit tea before.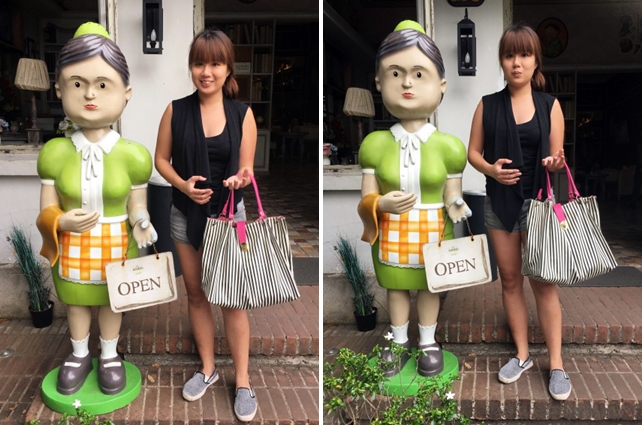 Here's the Nanny that I was rying to imitate hahaha.
So in a nutshell, Bandung's cafes are the bomb because:

Everything tastes good and I really mean everything that we ordered

Crazy extensive menus (Appetisers, sides, soups, Asian mains, local mains, western mains of steaks and pastas, all-day breakfasts or desserts of waffles and pancakes, zillions of drinks from tea and coffee to mojitos and refreshers to smoothies and milkshakes… you get the idea

Spacious with comfortable seating e.g. couches and sofas of your choice (Don't know why most cafes in Singapore have such stiff seating… maybe cos they don't want you to stay long so it's damn hard to find a chill spot where I can do my reading)
Anyway we stayed at Amaroossa Hotel in Bandung which I totally loved too. We paid about S$114 each for 3 nights so that's S$38 per night per person in a 4-star hotel! Super value for money and comes with free buffet breakfast too. There's a pool too!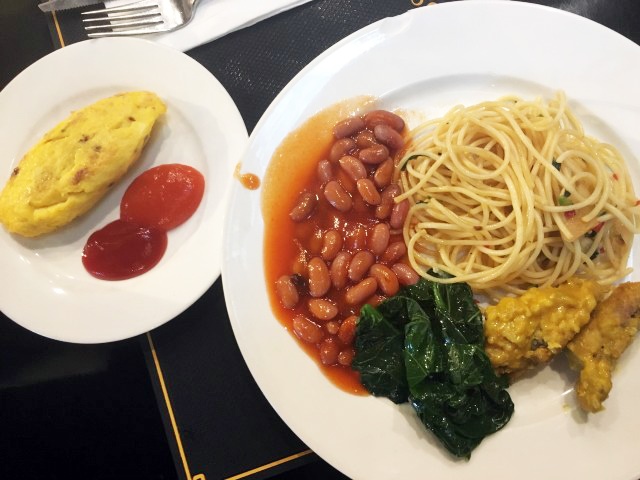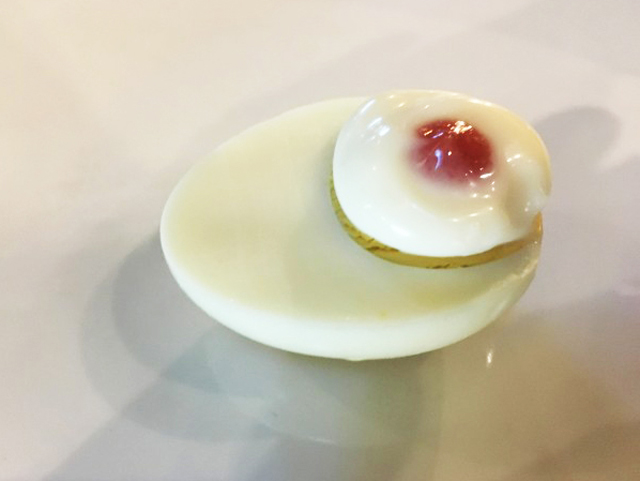 So each day basically consisted of us pigging out once we woke up and then cafe-hopping and shopping till we dropped. Ultraaaa relaxing!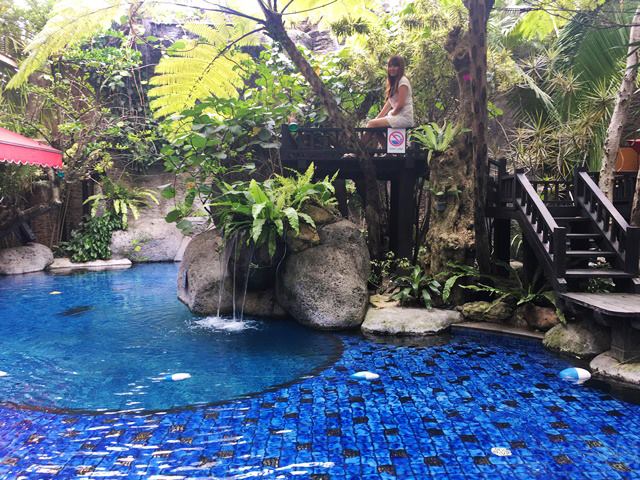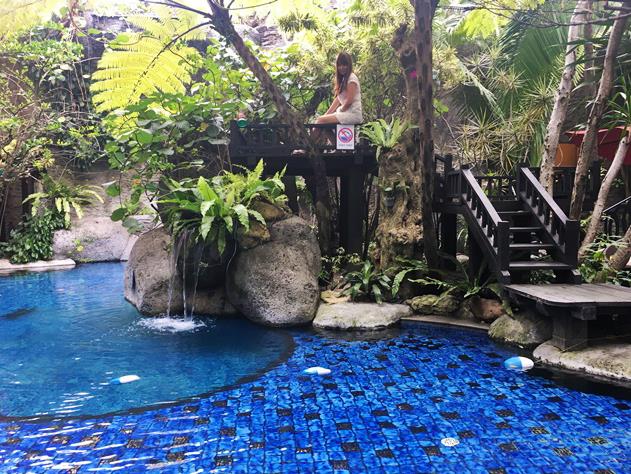 Sigh I need to go back!!! We didn't manage to visit Kawah Putih this time 🙁 Bandung is an ideal destination for budget travellers looking for a short getaway… unless you tend to go mad when shopping.
Actually I don't know how it happened because besides spending the rupiah that I changed, I also swiped my credit card three times during our shopping sprees and it all amounted to $200 LOL but ya it happens.