Singapore's first Blogger's Symposium
Yes, this entry is solely about my experience at the Symposium – meeting Xiaxue, Singapore's Blogger Queen, up close and personal. Includes pictures I took with her! So, read on 😀
This is Singapore's ever first Blogger's Symposium, organised by Nuffnang and sponsered by Canon.  I'm assuming that all Nuffnang members received the invitation to this event via email just like I did.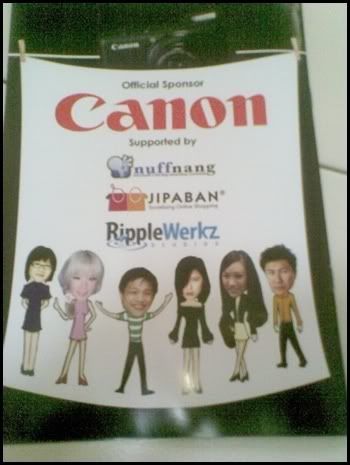 There were a few guest speakers you can choose to register with and go for their workshop. There was also a lucky draw and mini-photo contest (theme: Happiness) plus all participants would receive a goody bag. I registered with Xiaxue.

However, due to overwhelming response, they decided to open up 200 more "special slots" for Xiaxue's worksop specially. And these extra 200 people will not be entitled to the lucky draw, photo contest and goody bag unlike the initial group of people already with Xiaxue.
I signed up the moment I saw the email, but I was still one of these 200 special slots T_T so just imagine.
I hesitated about going since that means I'll be going there just to listen to her talk etc etc, cannot participate or get anything else. And nobody to go with me also. Plus it's all the way at SMU, and I also had a birthday celebration to attend the same day.
But I decided to be crazy and was like, oh what the hell, I'm going. Plus not everyone can get such a chance presented to them. Such a special event, a golden opportunity to see Xiaxue up close. And I'm glad I went because it was AWESOME! 😀
I reached there and went to register to comfirm my attendence.
Normal participants not part of the extra 200 special slots received a plain brown and boring-looking sticker thingy card, where you filled in your name and your guest speaker's name.
People who were part of the extra 2oo like me received PINK cards with Xiaxue's picture on it! 😀 like so personalised! These card-sticker thingys are for identification purposes if I'm not wrong.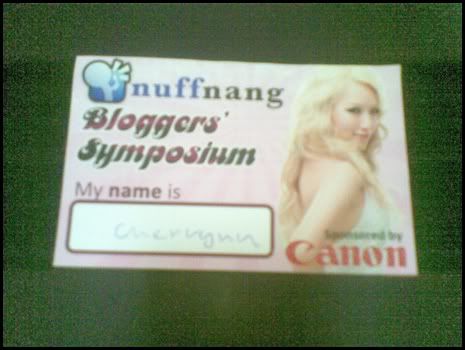 Very special indeed!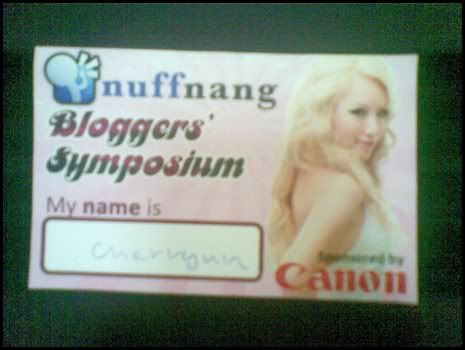 I'm keeping this card with me forever (it's actually a sticker but I didn't tear the base out)
At 3pm we were allowed to enter the auditorium and the mighty Xiaxue was at the entrance. Everyone waited for their turn to take a picture with her including me. I took two with her! 😀
This one turned out nicer despite the poor quality, taken with my phone.
This one taken with my digital cam. Better quality but I prefer the one taken with my phone!
I met this 21 year old there called Cassie who helped me take the pictures and I helped her with hers. We sat together in the auditorium and she said she came all the way from Malaysia to see Xiaxue.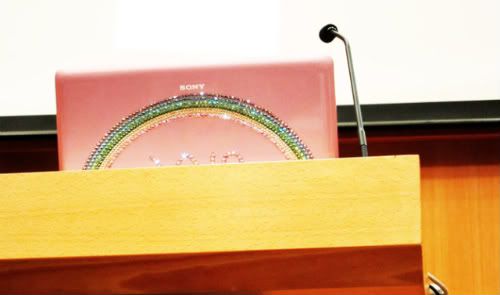 This is Xiaxue's laptop – so pink and bling (it's a rainbow), totally her!
On stage presenting her powerpoint slides
Pardon the quality because they are taken with my phone instead of digital cam. I haven't figured out how to transfer pictures from the digital cam to my laptop yet (I didn't see the slot of the memory card at the side yet lah!) at that time, but now I know -_-
Xiaxue was so uber funny. She had the whole auditorium in heaps of laughter half the time. Hahahahah you just had to be there yourself! 😀

"How to camwhore and lie to the world that you are gorgeous"
Printouts of the slides she prepared herself
Mainly it's camwhoring and Photoshop tips.
She photoshopped an unglam photo of herself right on the spot to teach us. Really amazing, her skills! Then she took a photo of Kenny Sia (Malaysian blogger) and photoshopped his (very crooked like tiger) teeth on the spot. Crazy hilarious!! 😀
In the midst of photoshopping.
No, this is not "before & after' slides, they are the same.
Other people stayed for the lucky draw and results of the photo contest. The special 200 people could leave around 4plus and the amazing thing is, despite them stating in the email that we wouldn't be entitled to blahblahblah… we were still given the goody bag as we walked out of the auditorium! 😀
Inside the goody bag got one vair vair chio black notebook, I like!!! 😀
Sophisticated-looking beauty (it is a lined notebook)
K lah picture don't look very nice but the actual item damn chio 😀
Luckily I decided to siao siao and go! Totally enjoyed myself plus it was kind of a once-in-a-lifetime experience. Even now I'm still buzzing from the excitement of it all 😀 it still feels very surreal… being able to meet and take pictures with her etc.
Awesome or not?