Archive for the 'Movie reviews' Category
This is how I feel about Netflix because it is so therapeutic after a tiring day, their UX is amazing and they make binge-watching so effortless wtf. I don't have to Google and click endless links just to find a HD subbed version because they have thought of everything.
And while they have loads of titles available, all I ever feel like watching is horror. Especially slashers and whodunits, which have always been my favourite genres (I hate the supernatural). Same for when people recommend me stuff to watch (and I do plan on watching them, really… eventually), I always end up on a horror binge.
Here are some whodunit shows I have been binge-watching on Netflix recently. I swear I started slow and tried to savour them… like one episode per day. Then the plot picks up and I can't stop because of all the whys and cliffies #noshame ?
1. The Sinner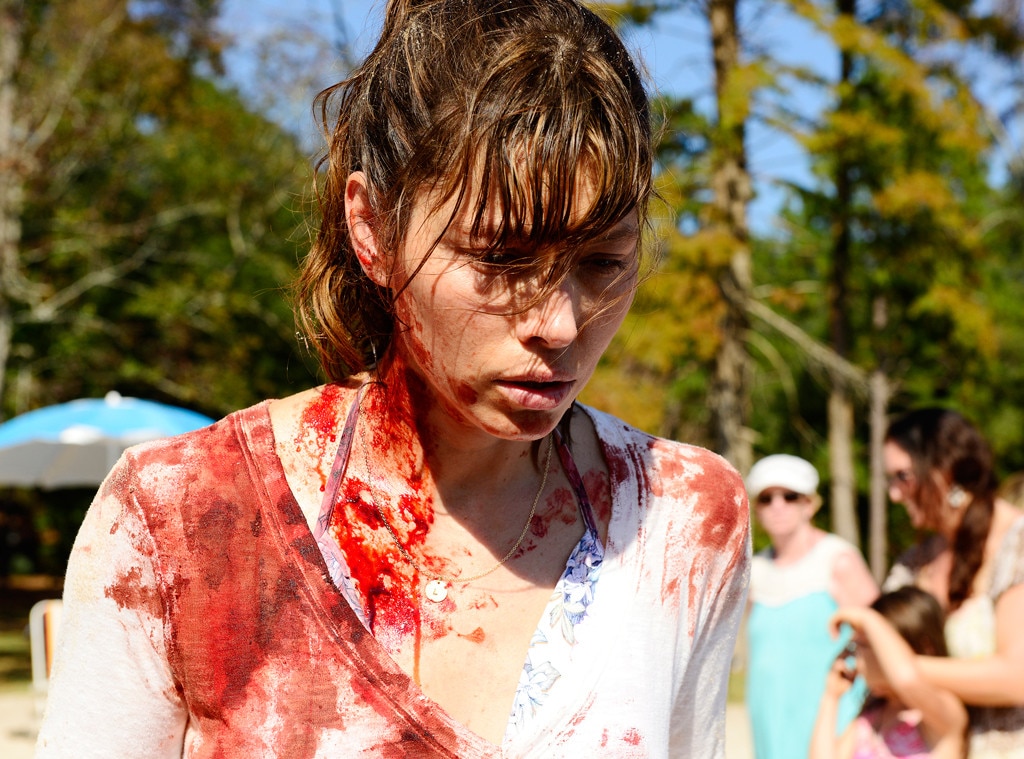 Okay, this is more of a #whyshedidit than a #whodunit. But WOW.
At first the synopsis had my curiosity (how do you stretch a murder that Jessica Biel's character clearly committed for an entire season?) but barely halfway through the pilot and there came the insane stabbing scene. NOW YOU HAVE MY ATTENTION.
Anyway this was surprisingly good and the best part of it all was the satisfying ending! I felt so content and rewarded as the audience. The Sinner has a wonderful pay-off and this is something many shows fail to achieve despite boasting of a strong plot in the middle.
Verdict: ★★★★★
Highly recommended and you will get hooked on the iconic song like me lol.
2. Slasher

I don't know why I took so long to finally watch it when the title already says Slasher. It's like a wet dream for me and made up of everything I love omg. People getting stranded and being killed off one by one as you try to figure out who the killer is. Wooo!
I accidentally watched Season 2 before Season 1 cos I mixed them up but they are standalone anthalogies so it doesn't matter. Plus it's a good thing cos Season 2 is heaps better. I correctly guessed who the Season 1 killer was in Episode 3 ?
I don't want to be correct, I want to be shocked and mindblown.
Which is what Season 2 did to me. I never saw the ending coming!!!! It was also damn brutal, gory and graphic (even worse than the Hostel and Saw films) but the deaths were actually quite creative, plus it isn't gory just for the sake of being of being gory.
There was a male character that got the shortest end of the stick: frostbite, isolated, abducted, raped in the ass by a gay ex-convict, burned alive, choking on blood… WTF the writers must really hate him.
I also love how Season 2 pays homage to/reminds me of so many classic horror films. Season 1, on the other hand, is like the bastard sibling of Se7en (1995) despite some interesting moments. With pedo rape and minus the famous box.
Verdict: ★★★★★
Season 2 is one of the best whodunits ever (to me) so highly recommended for horror fans, but not for the faint-hearted.
3. Riverdale



Yes Riverdale, based on Archie Comics, has turned into a whodunit too in Season 2 ? Not that I'm complaining because I enjoy it so much more than Season 1. But it's quite dark and psycho. When I was describing scenes to my colleagues, they were all in disbelief because it sounded nothing like the comics.
Sadly the serial killer's identity was revealed mid-season and very disappointing after so much tension, but hopefully it picks up again! One month without Riverdale cos they went on break so I had to turn to other shows.
Verdict: ★★
Honestly it is not fantastic and I don't ship any couples (everyone is quite irritating) but I just like following it (mostly due to the serial killer element)
4. Guilt
I only watched this because I finished everything else of interest and Netflix recommended this, but their algorithm is really always on point.
On a critical level, this is probably just so-so. But I watch stuff for entertainment so I seriously enjoyed this because it is fast-paced, has lots of plot twists and hot characters, the soundtrack is killer (no pun intended), and it's all wrapped up in a whodunit!
Initially I felt quite meh by the killer's identity (lousy pay-off)… until the second reveal. And the final scene is insane. Would have been an awesome lead up to Season 2… except there isn't one because the show got cancelled ? But what a ride!
Verdict: ★★★
Really fun to watch!!!
5. Pretty Little Liars
If there is a show for being the biggest waste of time, PLL would win. I marathoned this nearly every night and was in time for the finale when it aired. I finished all 160 episodes in 3 months because I was desperate for a reveal that didn't come until the last episode.
And it really sucked.
The only character I actually liked in the whole show was Hanna, her mother Ashley and her OTP Caleb (wanted to puke when he was with Spencer… their ship name is Cancer which pretty much sums up how all we fans feel).
I also really detested Ezria despite my penchant for forbidden romances. In fact, everyone got on my nerves except for Mona who is the only one with brains.
This review by a @goodreads user is exactly why I love whodunit mysteries and why #PrettyLittleLiars was dumb and a bloody waste of time. pic.twitter.com/m84UWWtJFW

— Cherlynn (@twiinklex) July 16, 2017
Verdict: ★
Terrible pay-off, damn pointless, a disgrace to the whodunit genre.
Currently I am reading Sharp Objects by Gillian Flynn which is another whodunit and a great page-turner HAHAHA CAN'T STOP WON'T STOP ???
In all seriousness, I cannot take Michael Bay seriously.
Not because I hate him but because I find him funny… in a facepalm kind of way.
Prior to Transformers 4, the only film of his (director only) I'd watched was The Island (2005) with Ewan McGregor and Scarlett Johansson. Which I really liked because of the interesting and engaging storyline. I even cried at the end because the final scene was so moving and I even rated it a 8 on IMDB.
The only thing that bothered me was the second half of the movie, where there were too many explosions. Not even action or fighting, but irrelevant explosions all over. It turned a sci-fi film into an action film so I felt like I was watching 2 movies instead. Which is quite a pity.
And then I realised that explosions were Michael Bay's trademark and style.
Watched Transformers 4 yesterday (never watched the other 3 though) and it was surprisingly not bad. Maybe because I had low expectations. Yeah it was a usual Michael Bay mess of action and explosions (many of which were eerily similar to The Island e.g. the spaceships even move in the same way) but what else would you expect from a film about robots?
A lot of obvious and irrelevant product placements as well and I can go on about its demerits but why. I didn't enter the theatre expecting to see an intellectual movie. I wanted to be entertained.
And entertained I was. In fact I was gleeful that the movie was nearly 3 hours long. Which is saying quite a lot since my attention span is barely there and I fall asleep all the time. A good popcorn movie that made my money's worth.
Anyway, back to my topic on why I can't take Michael Bay seriously.
1. His response to haters
In response to all the criticism about him, this is his response. And let's be honest. It's funny and witty and enough. Plus he actually has a point. It's his choice what kind of movies he wants to make, and it's his choice if he wants to be criticised (honestly though those critics never shut up about anything).
The most important thing is HE MAKES MONEY. Loads of it. In fact, Transformers is one of the highest-grossing film series of all-time with just the first 3 films (as opposed to Harry Potter's 8 or Marvel Universe's 9). And Age Of Extinction is making shit load of money. Still is. According to Guardian, it is already China's highest grossing film of ALL TIME despite having only been released for 10 days.
Let's admit it — financial success is still success. Just like how bad rep is still reputation.
2. His meltdown on stage at a Samsung event
This just cracked me up so badly. Apparently there was a glitch with his teleprompter. At the 0:40 mark, he starts to lose it. Then he makes the best sigh ever which I will never forget. I feel your frustration!
He recovers soon enough but goes off again at 1:00. Then he simply says, "Excuse me, I'm sorry" and walks off, leading to a very awkward silence. I just find the whole saga epic and fun to watch. Anyway, he responded to the incident afterwards:
"Wow! I just embarrassed myself at CES – I was about to speak for Samsung for this awesome Curved 105-inch UHD TV. I rarely lend my name to any products, but this one is just stellar. I got so excited to talk, that I skipped over the Exec VP's intro line and then the teleprompter got lost. Then the prompter went up and down – then I walked off. I guess live shows aren't my thing."
It's okay, Bay. I hate public speaking too.
3. His response to those who dislike Transformers 4
"They love to hate, and I don't care; let them hate. They're still going to see the movie! I think it's good to get a little tension. Very good. I used to get bothered by it, but I think it's good to get the dialogue going. It makes me think, and it keeps me on my toes, so it's good."
I had pretty much gotten over being amused by him until this article came up and got me going again. Thus inspiring this post which I can't decide if it's making fun of him or defending him. Neither, I guess.
Gotta admire his spirit and positivity.
Quoting Mean Girls, don't ever let the haters stop you from doing your thang!